Hello fellow developers. The hugely important Stack Overflow site is currently running their annual survey of developer tools. Delphi is listed among the choices. It would be really helpful if you could visit the survey and let Stack Overflow know that you're a RAD Studio with Delphi user. Whether you use one of the paid editions or the recently announced version 11 Community Edition it all counts.
Delphi is very good at working away silently and trouble-free in the background, powering all sorts of parts of commerce, apps, and vital infrastructure. The fact that Delphi apps are immensely stable and don't keel over just because something on the computer was changed or upgraded is a huge benefit – but it's also a curse. It can lead to the language being 'silently successful'. To paraphrase Oscar Wilde, "there is only one thing worse than being talked about, and that is not being talked about".
The Stack Overflow survey also has a spot to indicate that you use RAD Studio, so C++ Builder also counts too.
So, please, go to the following link and let everyone know that you're a Delphi user. It's anonymous and only takes a few minutes. The figures are aggregated so nobody will actually know – but every single vote counts.
The survey closes on May 19th so the sooner you can take the survey, the better.
Here's the survey: https://meta.stackoverflow.com/questions/424565/take-the-2023-developer-survey
Marco has written a blog about the survey too. I am also very grateful to Darian Miller, one of our excellent MVPs who managed to electronically poke me as soon as I took over from Jim McKeeth and reminded me about the survey. Darian has his own take on the survey here: https://www.ideasawakened.com/post/2023-stack-overflow-developer-survey-includes-delphi-place-your-vote-today
If you can find the time to complete the survey you'll be helping both your fellow Delphi developers and those people who are considering development for the first time.
---
Register for Python GUI Apps Con 2023 today!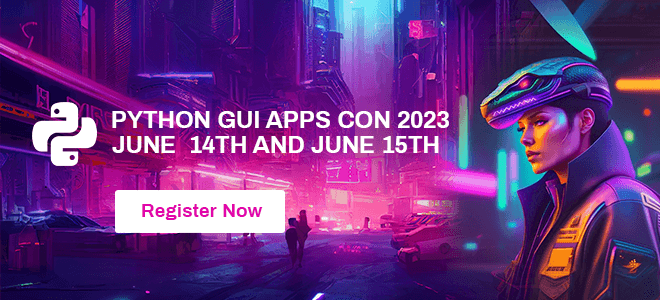 ---