The Embarcadero Showcase features a number of different amazing software solutions created by our customers. We are adding new showcases all the time. The purpose of the showcase is to highlight the successes our customers are enjoying by using our tools and solutions such as RAD Studio, Delphi, C++Builder, InterBase, and RAD Server. You can submit your own showcase and we might feature it if all of the necessary media is available.
Submitting a new showcase is easy. Simply visit the Showcase Submission Form and enter the required information and media. A short app description describing how and why the software solution uses Delphi is optimal. In order to be evaluated for a Showcase the submission needs to include access to 1080p resolution screenshots or a public download (like a free trial) so that high resolution screenshots can be created. Additionally, they need to be taken with the latest version of Windows. For mobile apps please provide the App Store URLs in the description and any extra screenshots you may have. You can also submit a YouTube URL featuring your software solution and it may be included in the Showcase.
Here are a few existing Showcases you can check out below.
Featured Showcases
Award Winning Native Windows SFTP Client Built With C++Builder And Downloaded 143+ Million Times
WinSCP is a popular award winning native SFTP client, FTP client, and file manager for Microsoft Windows. It has been download over 143 million times and is available in many languages. WinSCP is built with a number of programming languages but C++Builder is the main tool powering it's graphical user interface. It is a great example of leveraging C++Builder's fast UI development…
Rise of Legions Multiplayer RPG Windows Game Built In Delphi
Broken Games is a small, ambitious independent game development company based in Berlin, Germany. Their flagship game, Rise of Legions, is a multiplayer RPG available for the Windows platform. Co-founders Tobias and Martin focus on bringing people together through game…
Comprehensive Music Theory and Ear Training App Built In Delphi
With almost 3,000 lessons created by music teachers for beginners to professional musicians playing any instrument, EarMaster is a comprehensive, consumer-grade app with extraordinary functionality that uses a variety of different technologies. Despite the app's technologically advanced backend, the EarMaster team worked hard make it as simple and intuitive as possible to use. EarMaster features…
Ready to submit your own Showcase?
Head over to the Showcase Submission Form and let us know about your amazing project!
---
Register for Python GUI Apps Con 2023 today!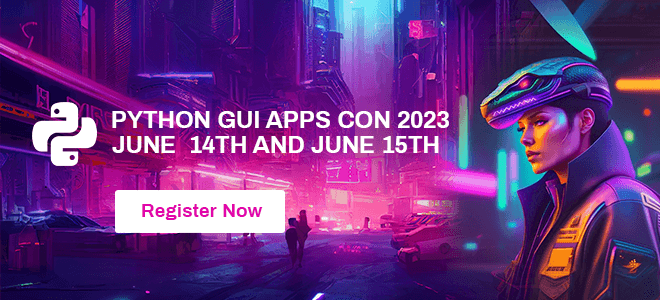 ---