This industry-ready Order Entry Application template for busy small business owners. This project is to build a general template for the regular structure of the order entry application.
Specifics
• Specifically we are working on something similar to general existing order entry applications.
• The goal is to have a reusable template that a user can download and add their content to and create a professional-looking application.
• The template will be delivered in a sample application that shows the power and flexibility of the template. And that is documented enough so that a user will understand how to customize it for their use. On the following slides, you will find screenshots and annotations
Order Entry – tabs, rooms, and menu management
Time Clock – employee clock in/out
Manager – main manager settings
Exit – exit from the application
In a room view, it is possible to assign a table to a user and to start a new tab
It is possible to move tables on the screen according to their real location
It is possible to see the number of seats for each table
On this screen, the user can pay for the order in different ways and leave tips
You can download the Order Entry App from GetIt Package Manager
Also, be sure to check out other amazing sample application here!
---
Register for Python GUI Apps Con 2023 today!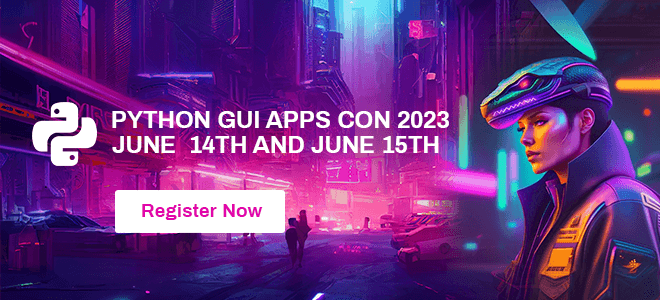 ---