Embarcadero has made available the Community Edition license for the most recent 11.3 release of Delphi and C++Builder. This is a free edition of either Delphi or C++Builder for students, hobbyists and startups (as the license is revenue-limited).
What is Community Edition?
The free and full-featured Community Editions of Delphi and C++Builder are designed to help you get started programming. These powerful IDEs provide all the features you need to quickly explore robust app development. This CE release has the same build number (28.0.48361.3236) of the new inline version of RAD Studio 11.3.
Community edition users can now enjoy the milestone innovations of the 11 Alexandria Pro edition, including high-DPI support to the IDE covering the latest 4k+ monitors, design-time support for VCL Styles, and design and code editing for the same form from multiple windows.
Community Editions are available free of charge to developers, and organizations with fewer than five developers. You or your company must have revenues less than US$5,000. They come with a one-year term license and a limited commercial license. If you aren't sure if you qualify for the CE license then start with the Free Trial or consult the Community Edition License FAQ.
Once you outgrow Community Edition, upgrade to a perpetual license with an unrestricted commercial license and choose between the Professional, Enterprise, and Architect Editions of Delphi, C++Builder, and RAD Studio.
Notice that the Community Edition should not be used as an extended trial, as the licenses are different. Also, CE should not be used by companies with other regular licenses.

Delphi 11 CE
There's no better way to build powerful native applications for iOS, Android, Windows, and macOS from a single codebase than using the robust and easy-to-learn Delphi language. This makes it the ideal choice for students or anyone who just wants to get things done. 

C++Builder 11 CE
C++Builder is your choice if you want to master the mysteries of the curly brace. It unlocks a huge variety of C++ standard libraries, while still giving you access to the powerful runtime libraries included in Delphi. This is a winning combination for C++ development.
---
Register for Python GUI Apps Con 2023 today!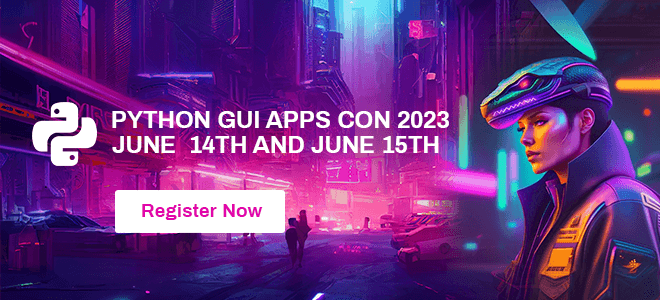 ---