In today's digital era, smartphones and mobile devices are everywhere. Every year, millions of smartphones are sold worldwide. Naturally, the increasing use of smartphones is resulting in increasing mobile app downloads. The year 2021 alone saw a whopping 230 Billion mobile app downloads worldwide, and this number will only increase in the future. According to research, Google Play Store app downloads will reach 613 billion by 2025. When it comes to developing mobile applications, developers today use a visual mobile app builder to speed up app development and meet customers' needs.
If you're a developer looking for a visual builder but don't know which one is the right option for your needs, this article is the right place. Read on to learn about the five best visual mobile app makers.
What Is a visual mobile app builder?
Visual app development means creating applications visually usually via pre-made, drag-and-drop graphics and visual elements rather than programmatically or describing the screen elements using program code or something like XAML. A visual mobile app builder comes with pre-written application code so that users don't have to deal with the challenging task of writing code. It's an incredible tool for beginners who are still learning complex programming syntax. Many professional developers also use these tools for faster app development.
Some advanced visual builders also enable users to modify apps once created. Additionally, most visual app builders allow you to import and export your visual designs.
Visual app builders usually use a low-code development approach. However, a no-code platform can also involve an element of visual development. While low-code software development can require some coding skills, a no-code environment lets you create an app without coding.
If you want to learn about low-code and no-code platforms in detail, check out the following article.
What are some of the best visual mobile app builders?
RAD Studio
Embarcadero's RAD Studio is one of the most powerful IDEs for creating cross-platform apps. It supports Delphi and C++ as programming languages and provides a comprehensive set of features and tools for Windows (desktop apps) and mobile app development. It has an extremely fast set of compilers which produce very robust applications that have gained an enviable reputation for stability and the ability to run on many different configurations with no external dependencies or huge downloads.
In terms of visual and low-code development, RAD Studio offers various helpful features:
Whare are the features of RAD Studio?
Control of Native Mobile Apps
Many low-code platforms don't allow developers to access the source code. And even if you do get the code, most tools never provide the full source code. In addition, you need to pay a monthly fee to keep your mobile application functional.
However, you get complete control of the apps built with RAD Studio and full access to the generated source code and all project resources and related items. It even allows you to easily extend your app's functionality with custom code. The Delphi language, which is a version of Object Pascal, is very easy to learn and includes all the features and capabilities you'd expect from a modern, powerful programming language. For developers more used to C++ RAD Studio and its sister IDE C++ Builder support development of apps in modern C++ should you wish to go in that direction.
Single Code Base
In terms of mobile app development, RAD Studio supports both iOS and Android apps along with full support for all current versions of Windows, macOS and even Linux for when you want to create desktop apps too. All the mobile apps you develop with RAD Studio are compiled and highly optimized for multiple platforms.
RAD Studio allows you to build native apps five times faster than many competing technologies and offers one codebase for Windows, Linux, iOS, Android, and macOS.
Low-Code Wizard – Visual mobile app builder
RAD Studio offers a low-code environment with its FireMonkey Low-Code Wizard. FireMonkey is a cross-platform development framework that enables users to create responsive UIs. The low-code wizard essentially allows developers to build high-performance Delphi mobile applications with multiple screens.
RAD Studio's low-code wizard allows users to choose from different app screens such as:
User accounts (sign in, sign up, etc.,)
Terms of use
About Us
Privacy policy
Settings screen light and dark themes
Contacts and more
What are the pros of RAD Studio as a visual mobile app builder?
Supports fast mobile app development
User-friendly visual design environment
Support for the latest Android 30 API
Support for the latest version of XCode and iOS which is vital for targeting the latest Apple iPhones, Mac and iPads. RAD Studio fully supports the latest version of iOS and macOS.
Support for the ARM M1 and M2 Apple Silicon simulators – RAD Studio can debug and run your apps on a connected Mac seamlessly with a single click (once you've set it up the first time which only takes five minutes and has a wizard to walk you through it).
What are the cons of RAD Studio?
You need to have a basic understanding of Delphi or C++ although Delphi in particular is very easy to pick up
Appy Pie
Appy pie is a "no-code tool" that enables users to create applications without coding experience or technical skills. It supports both web and mobile app development and provides several customizable color themes, drag-and-drop features, and pre-built templates. When you're using Appy pie to build mobile apps, you don't need to worry about errors and coding syntax.
What are the features of Appy Pie as a visual mobile app builder?
Allows you to update your app's content without any resubmission.
Appy pie offers app makers for both Android devices and iOS that ensure the apps you create are optimized for their respective platforms
Allow you to convert websites to apps
Supports app analytics
What are Appy Pie's pros?
App monetization
Faster app development
No coding required
What are the cons or Appy Pie?
BuildFire – Visual Mobile App Builder
BuildFire is another easy-to-use visual mobile app builder that allows you to create interactive apps for Android and iOS. It is a cost-effective solution to create customized and highly functional apps. BuildFire is an excellent tool for both beginners with little or no coding knowledge and expert developers who want to speed up mobile app development.
What are the main features of BuildFire?
Allows you to create apps for Android and iOS quickly and easily
Offers drag-and-drop features and pre-configured templates to enable users to build apps without any coding
Allows users to customize templates as per their requirements
Supports real-time preview
Rapid prototyping
What are the pros of BuildFire?
User-friendly
Incredible customer support
Developer SDK for custom functionality
Does BuildFire have any cons?
Complex and advanced apps developed with BuildFire sometime don't function properly
Zoho Creator
Zoho Creator is another impressive visual mobile app builder that provides a low-code environment. It offers an intuitive drag-and-drop interface and enables users to design, build and run any app. Additionally, Zoho creator supports both web and mobile app development.
What are Zoho Creator's Key features?
Drag-and-drop app builder for easy design implementation
Offers tons of pre-built integrations, allowing you to connect different tools
Supports real-time analytics
Allows users to automate processes visually
Offers collaboration tools
Highly customizable for different business needs
What are the pros of Zoho Creator?
Multi-language support
Low learning curve
Allows users to create beautiful apps with minimal coding
What are the cons of Zoho Creator?
SaaS app integration needs improvement
Adalo Visual Mobile App Builder
Adalo is a no-code visual mobile app builder that allows users to create an app's interface using drag-and-drop components. It enables users to add database configuration automatically. It can even integrate with your existing API.
What are Adalo's key features?
Reusable drag-and-drop components for creating iOS and Andriod apps
Allows users to create a real app from a prototype using database spreadsheets
Allows users to add calendars, forms, payment options, and more to their apps
Push notifications
Does Adalo have any pros?
25+ drag-and-drop visual components
Offers a free tier
Easy to use
What are the cons of Adalo?
So, what would be my choice for top visual mobile app builder in 2022?
For me, the clear winner is RAD Studio. The fact you can produce apps which share a single set of code and yet can work on iOS and Android without any further jumping through hoops is a huge benefit. The productivity gain from only having one set of code to look through for any issues or improvements, along with the absolutely gorgeous professionally designed user interface styling and themes makes me look like a software house with a full stable of graphic designers at my fingertips. Write once and compile for any target with a single double-click to swap between iOS, Android, Windows, macOS and Linux adds a wow factor – no more creating separate projects in different tools that I have to relearn; it's all in one place with RAD Studio.
A recent Delphi demo video showed a Delphi app running faultlessly on an iPhone 14 Pro Max in the Apple Arm simulator three weeks before the new device was available anywhere at all. This is a quite remarkable thing – being able to target a device which no-one was able obtain including the developer meant he could confidently say to potential customers that the app would work on the new device even though neither they or he could get one!
Add this to the robustness of Delphi programs which never seem to crash, the speed of RAD Studio's compilers and linkers and the myriad of little helpful features like code completion, error insight and a true "what you see is what you REALLY get" multi-device form designer makes this a clear and obvious winner.
Are you ready to create beautiful interactive mobile apps quickly and easily? Sign up for the best visual mobile app builder today!
---
Register for Python GUI Apps Con 2023 today!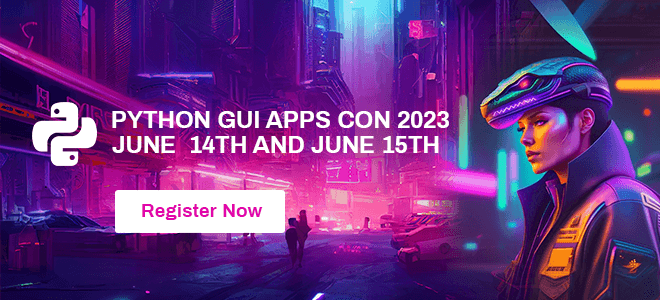 ---