In the second of a three-part series, we are looking at the family of brands to which Embarcadero belongs. The first and third articles in the series are also available.
As a RAD Studio, Delphi, C++Builder and InterBase user you're likely aware that Embarcadero is a subsidiary of the Idera Corporation. The Idera Corporation also owns a number of other brands that fall into three broad groups – data tools, dev tools, and devops tools.
Many of these brands have offerings that represent value for customers across the Idera family. If you also work with languages beyond Delphi and C++, such as JavaScript for example, you'll find many offerings that will be of interest.
Besides Embarcadero, the Idera family of brands representing developer tools include Sencha, APILayer, Froala, Whole Tomato, UltraEdit, Lansa, FusionCharts, FileStack, and Yellowfin.
Fast Cross-Platform Application Development
Embarcadero tools help developers build and maintain the world's most critical applications. Our users understand the scalability and stability of C++ and Delphi, and depend on the decades of innovation those languages bring to development. In fact, ninety of the Fortune 100 and an active community of more than three million users worldwide have relied on Embarcadero's award-winning products over the past 30 years. If you're trying to build a business-critical application in a demanding vertical, or write critical code that will pass stringent reviews faster than any other, Embarcadero has the solutions for you.
Rapidly Design and Deploy Web Applications
More than 10,000 customers and 60% of the Fortune 100 rely on Sencha to deliver innovative applications that drive their business. The Sencha Web Application Development Platform uses the power of modern web technology to empower companies to seamlessly design, develop and test cross-platform, data-intensive web applications that deliver the best end user experience. Organizations are using the Sencha Platform to improve productivity and accelerate every stage of the web application development lifecycle.
Scalable Web APIs for Productivity and Connectivity
APILayer is the leading provider of off-the-shelf, cloud-based API products built to help developers and businesses around the world operate quickly and effectively. Today, organizations of all sizes struggle to support complex digital transformations and exploding demand for connectivity and real-time data. apilayer addresses this demand with highly reliable and scalable APIs that can be configured fast and require minimal maintenance. APILayer's products serve more than 500,000 customers ranging from individual developers to large enterprises. Our team has the unique opportunity to rethink how business processes work and how they can be improved, and we are thrilled to keep building a platform dedicated to allowing companies to focus on what they do best.
Editing for Rich Text and Web Applications
Froala re-imagined the web editing experience from its roots by creating an outstanding mobile friendly WYSIWYG HTML Editor. With over 6000 customers, including Fortune 100 companies, from over 110 countries all over the world, the Froala products are the building blocks for creating and editing beautiful content easier and faster.
Visual Studio Productivity Tools
Whole Tomato Software delivers productivity tools for C++ and C# development, including one of the most popular plug-ins for Microsoft Visual Studio, Visual Assist. Visual Assist fills gaps in the coding experience of Visual Studio, making a great IDE a phenomenal IDE, by providing unmatched functionality for navigation, refactoring, code generation, debugging, and more.
Text Editing Tools
UltraEdit is a market-leading suite of text editing tools for Windows, Mac and LINUX users. UltraEdit is renowned for its configurability and easy-to-use products, including UltraEdit, UEStudio, UltraCompare, UltraFinder and UltraFTP. The many hundreds of product features across UltraEdit's suite of tools help a wide spectrum of users increase their productivity and make their daily tasks easier.
Low-Code Application Development
Over 8,000 businesses around the world use LANSA to develop, maintain and integrate their business applications faster and better. LANSA has a 30-year track record of enabling customers to magnify the ROI of their IT spend. While most other development and integration tools have come and gone over the years, our customers have easily transitioned their applications into new technologies.
LANSA's flagship offering is Visual LANSA, the original low-code, rapid application development platform for professional mobile, web, and cloud developers. It provides a single-language IDE to generate the client-side, server-side, and everything in-between.
LANSA dramatically improves IT developer productivity and is the only platform that offers a combination of professional low-code development, integration and legacy modernization technologies. By simplifying the creation, delivery, integration, and maintenance of business systems, LANSA customers can more quickly react to business needs and produce, innovative and durable IT solutions.
JavaScript Charting Components for Data Visualizations
FusionCharts helps developers build user-friendly, visually appealing dashboards for web and mobile projects. The company's products include FusionCharts Suite XT, FusionTime, and FusionExport charting libraries that offer 100+ interactive charts and 2,000+ data-driven maps. FusionCharts is trusted by over 800,000 developers across 28,000 companies, including Facebook, Apple, Microsoft, Google, Oracle, Adobe, IBM, Intel, Caterpillar, Walmart, Vanguard, and others.
Low-Code File Upload and Management API
Filestack's powerful APIs enable developers to process content at scale and provide an off-the-shelf tech stack for uploading, transforming, understanding, and delivering content within applications and interfaces. Filestack's low-code platform enables developers to build automated content processing and analysis that dramatically accelerates the development lifecycle. The company's infrastructure powers billions of file uploads, transformations, and downloads every month for customers in a wide variety of industries, including ed-tech, e-commerce, crowdsourcing, and printing.
Embedded Data Analytics and Business Intelligence Platform
Yellowfin is an industry-leading, turnkey analytics and BI solution that simplifies the entire analytics workflow. Yellowfin combines action-based dashboards and automated data discovery into a single platform to lower the complexity of contextual analytics within a customer's application. Yellowfin's focus on ease of use, design flexibility, richness of integrations, and flexible deployment options makes it a preferred solution for independent software vendors and enterprise organizations.
About Idera Inc.
Idera, Inc. is the parent company of a portfolio of brands that offer B2B software including database tools, application development tools, test management tools, and DevOps tools. It is headquartered in Houston, Texas and has offices in Australia, Austria, and the United Kingdom. Idera creates tools designed to support, supplement, and augment the capabilities of Microsoft SQL Server, including SQL Diagnostic Manager, SQL Doctor, and SQL Inventory Manager. The company also offers a software as a service server backup product known as SQL Safe Backup, which allows hosting providers and others to offer their clients continuous data protection for their backups. They also offer a number of free tools for SQL Server performance, backup, and diagnostics and for Windows PowerShell.
---
Register for Python GUI Apps Con 2023 today!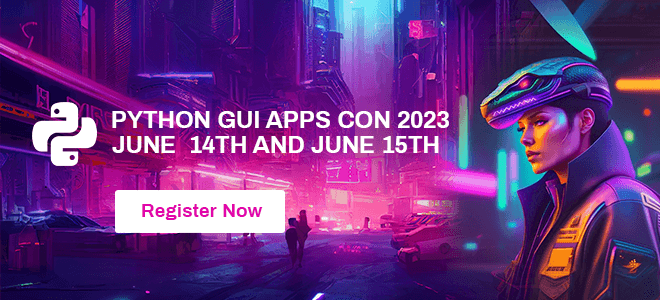 ---