As a RAD Studio, Delphi, C++Builder and InterBase user you're likely aware that Embarcadero, the company that brings you these tools, is a subsidiary of the Idera Corporation.
You're less likely to be aware, however, that the Idera Corporation also owns a number of other brands that fall into three broad groups – data tools, dev tools, and devops tools.
Many of these brands have offerings that represent value for customers across the Idera family. If you also work with languages beyond Delphi and C++, such as JavaScript for example, you'll find many offerings that will be of interest. In the first of a three-part series, we look at the Idera family brands representing data tools –  Idera itself, WhereScape, Qubole, Aquafold, Uptime, BitTitan, Precise, Webyog, and Perspectium.
The second and third articles in the series are also available.
Powerful Database Management
IDERA designs powerful software with one goal in mind – to solve customers' most complex challenges with easy-to-use solutions. IDERA's unique DNA is reinforced by user communities of more than three million database and developer professionals who use and evangelize our tools. From award-winning SQL Server database solutions to silo-smashing data architecture tools, IDERA brings 20 years of database tool development experience to the table to create cross-platform products that change the game for our users.
Data Warehouse Automation
WhereScape helps IT organizations of all sizes leverage automation to design, develop, deploy, and operate data infrastructure faster. More than 700 customers worldwide rely on the company's award-winning products — WhereScape 3D, WhereScape RED, and WhereScape Data Vault Express — to eliminate hand-coding and other repetitive, time-intensive aspects of data infrastructure projects to deliver data warehouses, data vaults, data lakes and data marts in days or weeks rather than in months or years.
The Open Data Lake Platform
Qubole is a simple, open, and secure Data Lake Platform for machine learning, streaming, and ad-hoc analytics. Our platform provides end-to-end services that reduce the time and effort required to run Data pipelines, Streaming Analytics, and Machine Learning workloads on any cloud. No other platform offers the openness and data workload flexibility of Qubole while lowering cloud data lake costs by over 50 percent.
Cross-Platform Database Productivity
Aqua Data Studio by AquaFold, Inc. is a cross-platform database solution delivering more than 40 must-have tools to database developers and analysts. It is a highly-collaborative platform that allows users to develop and deploy analytic and reporting solutions at an awesomely low price. Aqua Data Studio is used by more than 300,000 data professionals to design, develop, model, and administer their databases.
Website Uptime Monitoring
Uptime is a highly scalable and easy-to-deploy infrastructure performance monitoring solution which provides a unified view for complete visibility and control over performance, availability, and capacity in complex multi-platform IT environments. Uptime's holistic dashboard delivers integrated and comprehensive monitoring, alerting, and reporting for all physical servers, virtual machines, network devices, applications, and services all in one solution. Uptime is also very extensible supporting a variety of environments including on-premise, offsite or hosted/co-locations, and cloud.
IT Migration Tools
BitTitan is the premier provider of cloud migration solutions that support leading cloud ecosystems, including Amazon, Google, Microsoft, and ServiceNow. BitTitan empowers IT service professionals to deploy and manage cloud technologies through its family of software solutions, including MigrationWiz, Voleer, and Perspectium. Since 2009, BitTitan successfully moved over 25 million users to the cloud across 46,000 customers in 188 countries.
Administration and Management for MySQL
Webyog creates innovative database management tools for customers ranging from enterprises to small businesses and home users. Webyog provides best-of-breed database management tools for managing popular open-source databases. Webyog consistently receives top ratings and recommendations by respected third-party media and product reviewers. More than 2.5 million users worldwide have selected Webyog to help them smartly manage, monitor and optimize their databases.
Application Performance Monitoring
Precise offers industry-leading web-based multiplatform database performance monitoring, measuring the end-to-end end-user experience all the way from the browser through all tiers of virtual and physical infrastructure. We empower IT organizations by intelligently monitoring and optimizing database performance across Microsoft SQL Server, Oracle, Sybase, and DB2 in both cloud and on-premises deployments. Precise also provides seamless visibility into proprietary and custom applications like .NET, Java/J2ee, Oracle EBS, PeopleSoft, and more.
Data Integration and Synchronization Tool for ServiceNow
Perspectium is a data integration and synchronization tool offered as a SaaS solution for ServiceNow users. Perspectium DataSync solutions automatically extract data from ServiceNow to enable analytics, backup/recovery, business intelligence, migrations, machine learning, and more—all without impacting application performance. Perspectium ServiceBond solutions are turnkey eBonding applications that extend ServiceNow workflows into other ServiceNow instances, other enterprise applications, and third-parties—enabling true cross-application process execution delivered as a fully managed service.
About Idera Inc.
Idera, Inc. is the parent company of a portfolio of brands that offer B2B software including database tools, application development tools, test management tools, and DevOps tools. It is headquartered in Houston, Texas and has offices in Australia, Austria, and the United Kingdom. Idera creates tools designed to support, supplement, and augment the capabilities of Microsoft SQL Server, including SQL Diagnostic Manager, SQL Doctor, and SQL Inventory Manager. The company also offers a software as a service server backup product known as SQL Safe Backup, which allows hosting providers and others to offer their clients continuous data protection for their backups. They also offer a number of free tools for SQL Server performance, backup, and diagnostics and for Windows PowerShell.
---
Register for Python GUI Apps Con 2023 today!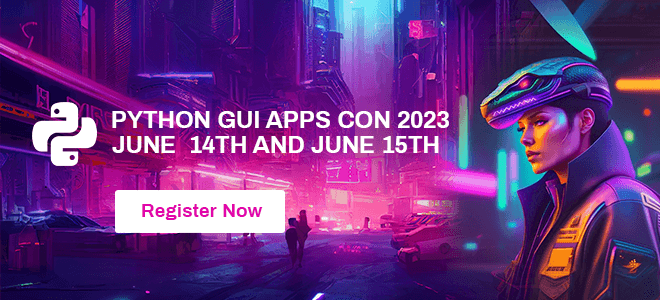 ---