DelphiCon is On! The world's biggest annual online conference on, in and around Delphi is just a week away!
DelphiCon 2021 is open, free, and loaded with incredible content and amazing prizes and giveaways. If you want to know just how hot Delphi is right now, this is an unmissable event!
Here at Embarcadero we want to make this year's DelphiCon the biggest ever, and to achieve that we need your help to reach everyone who loves Delphi. To make it easy to reach Delphi fans we've created a referral program that can also help you win big prizes! Here's how it works:
Refer And Win Big Prizes!
The Prizes:
1. Top Prize: One randomly selected referrer or referred signup who attends at least one DelphiCon session will win a Mac Mini (with the powerful new M1 chip, which Delphi can now target.).
2. Two Runners Up: Two randomly selected referrers or referred signups who attend at least one DelphiCon session will each win a one-year Delphi license (without update subscription).
3. Everyone who successfully refers at least one signup will be granted access to the closed Special Session near the end of DelphiCon 2021.
4. Everyone who attends three or more sessions will win the Ultimate Delphi eBook Bundle, which contains: Alistair Christie's "Code Faster in Delphi", Nick Hodges' "Coding in Delphi", "More Coding in Delphi" and "Dependency Injection in Delphi", and Marco Cantu's "Object Pascal Handbook" (updated specially for DelphiCon 2021).
5. Everyone who signs up for DelphiCon 2021 will get a free version of Marco Cantu's updated "Object Pascal Handbook".
The Rules:

1. Unique referral codes are used to track referrals. Only successful referrals with unique codes will be valid.
2. Each referral that leads to a signup will count as one "ticket" for the prize draw for the referrer, and one "ticket" for the referred. The more people you successfully refer who sign up, the higher your chances of winning.
3. The winners will be randomly selected from the pool of referrers.
How to Participate
1. Use your unique referral code to refer friends, colleagues and anyone you know who may be interested. 
2. If you haven't signed up for DelphiCon, do so here.
You will be automatically redirected to a page where you can see your unique referral code and start referring.
3. If you've signed up already visit this page to get your unique referral code and check your activity.
Note: If the DelphiCon 2021 referral program is a success, we will be introducing an ongoing referral program that will help our subscribers win incredible prizes, giveaways, discounts and more every month! Help us make this a reality!
Good luck!
More About DelphiCon
More than 10,000 developers will be gathering together from November 16th to 18th for panel discussions and webinars on Delphi.
Speakers
DelphiCon has a top-tier lineup of speakers, including Marco Cantù, David Millington, Ray Konopka, Holger Flick, Nick Hodges, Alistair Christie, David Intersimone, Jim McKeeth. Find the complete list of speakers here.
Themes
Our speakers and guests will be discussing the future of development with Delphi, multi-platform app development, desktop UX, Rapid App Development, developer productivity, multi-threaded programming on multiple platforms, gaming, low-code and no-code, extending Delphi's reach with C++Builder, Telegram bots, ethereum blockchain, connecting with REST, Windows 11, and IntraWeb apps.
For a complete schedule of panel discussions click here. 
See you there!
---
Register for Python GUI Apps Con 2023 today!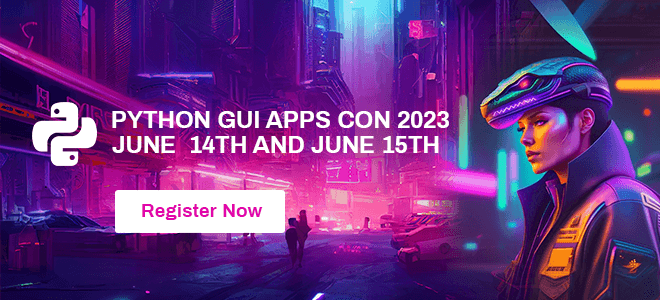 ---