Bill Clinton was President, Windows 3.1 was king, and CompuServe was still a thing. The R&D team at Borland Software Corporation which included Anders Hejlsberg, Gary Whizin, Chuck Jazdzewski, Dave Scofield, Allen Bauer, Hank Cox, Marc Cousineau, and Ray Kaestner released Delphi and changed the software development world forever.
In 1995 Delphi was lauded as the next generation Windows development tool, combining the most intuitive visual design environment with the unrivaled performance of a world-class optimizing native code compiler.
"Delphi" started out as a beta codename for a closely guarded skunkworks project at Borland: a next-generation visual development environment for Windows based on Borland's Object Pascal programming language. " – Danny Thorpe
Fast forward 27 years and Delphi is still building the future with support for many more platforms than just Windows including Android, iOS, macOS, Linux, and HTML5*. Powerful integrations via the broader developer ecosystem with C++, Python, C#, Java, Lua, and cloud solutions such as Amazon Web Services and Azure. Check out hundreds of different projects in the Showcase featuring Delphi projects reaching hundreds of millions of users.
Not on the latest version of Delphi? Check out all of the latest features in Delphi 11 including High-DPI and 4k+ screens, provisioning for Windows 11, Android 30 API and the macOS 64-bit ARM M1 processor.
Single Code Base
Create apps for all major platforms with less coding effort. Write once, compile everywhere.
Windows 11
Modernize VCL apps for Windows 11 with up-to-date user interface controls, WinRT APIs, and HighDPI-related features
Remote Desktop
Collaborate more effectively with remote teams using improved remote desktop support for VCL and IDE
High DPI & 4K
High-DPI support in the IDE, with full support for the latest 4k+ monitors, and cleaner and sharper fonts and icons throughout. Improved FMX High-DPI support for Windows and Desktop with a visibly superior desktop UI
iOS and macOS
macOS 64bit ARM compiler and toolchain that can build universal binaries including Intel/ARM versions for AppStore submissions
Android
Support for the latest Android 30 API and latest Billing APIs, and migration to use the AndroidX libraries. Android support for multiple classes.dex files, simplifying integration of external Android dependencies
RAD Server
Reduces the complexities of rapidly building and deploying a multi-tier turn-key enterprise REST API application server with Swagger support.
Accessible Data
Connect to over 20 databases natively with FireDAC's high speed direct access, including InterBase, SQLite, MySQL, SQL Server, Oracle, PostgreSQL, DB2, SQL Anywhere, Advantage DB, Firebird, Access, Informix, MongoDB and more
Faster Coding
Smarter code navigation when refactoring. Auto code completion with Tab key. LSP awareness of Include files. Auto restart of LSP server. Class helper support. Array suggestions when assigning arrays
Productivity
VCL Styles with design-time support: Prototype stylish UIs even faster by seeing immediately at design-time how your styled forms and controls will look when running.
Linux
Develop both server and FireMonkey GUI applications for Linux
Cloud Aware
Delphi has an HTTP and REST client library available on all platforms, to invoke REST services and even specific AWS and Azure components
Extensions
Develop and expand the IDE with your own components and IDE plugins, or find ready to use add-ons from our rich third-party ecosystem
User Experience
Completely rebuilt Welcome Page with a native look and feel, and a UI that fits the IDE, and customizable layout and content
Join us for the 27th Anniversary webinar!
In a separate article, get insights about the fun LED Scroller app for androids and how helpful it is in making text and emojis on the screen without breaking a sweat!
*HTML5 support provided by third party integrations such as TMS Web Core and Thinfinity.
---
Register for Python GUI Apps Con 2023 today!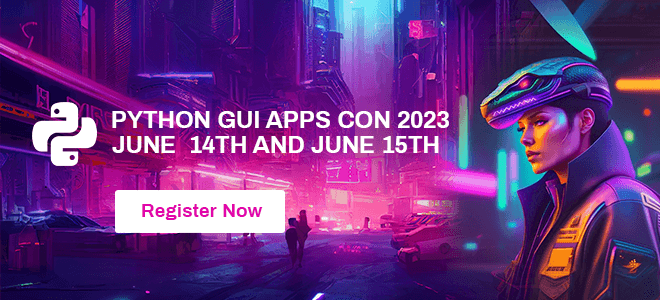 ---