The demand for app development is booming, and despite the recent turmoil in some sections of the tech economy, mobile app makers are still very much in demand. With the help of modern app builder software which support innovations such as drag-and-drop tools and low-code or no-code development strategies, almost anyone can create an app for their needs. Picking the right setup benefits small and medium enterprises with a low budget or resources to develop an app. However, we must consider many things while choosing an app builder software.
This article will first look at the range of opportunities offered by app-maker tools. Then we will read about the top seven mobile app makers in 2022. We will also discuss each app maker's pros and cons. Finally, we will see why the best native app builder can make the life of a developer easier and more productive.
Why is building an app hard?
Creating an app can be challenging and might even become a nightmare without the right tool. Sure, there are solutions available as no-code app builders, but they can have some significant drawbacks such, in some cases, a requirement for a monthly subscription or a 'walled garden' where you neither own the app you have created and cannot liberate it from the no-code app builder when you feel you need to move on to a new development system. For anything nontrivial there can be a definite sense of being locked-in and growth restricted.
Couple this with the fact many of those solutions are, in effect, wrapping web technologies to provide the app's functionality. So, the provided solution may look like an app, but the underlying system is still a website with an embedded browser and not a true native app solution. That said, some developers have used mobile app makers successfully to solve problems like making real-time stock market apps.
What are the 7 must-know points while browsing mobile app makers?
You can use mobile app makers to make, for example, a low-code weather app easily. However, before committing to an app builder, there are some key points to consider.
There is a difference between Native, Hybrid, and Web applications. See What is the difference between native, hybrid, and a web application?
Beware of the cost per app, per annum, or unlimited.
Remember that the smaller amount you know, the worst choices you may make. Research and understanding your intended market – now and in the future – is key.
A long-term game plan is essential in software creation for maintenance, update, and bug fixing.
Low and No Code approaches are suitable for the most common needs. It's inevitable though you will need a full-code cross platform desktop app development solution when you outgrow these systems. Owning the source code – the means to create the app – is ultimately a vital position to be in both as a best practice but also for growth and expansion. It's not practical for someone else to be owning your app's infrastructure and code base and when it comes to attracting investment or even simple things like ensuring compliance with legal statutes and liability insurance it's essential.
When choosing a low code application platform, you are betting on its business model, profitability, security, etc. If your chosen supplier has no business longevity, your app might be at risk of failure through no fault of your own.
You have to wait for the mobile app maker's schedule to upgrade your apps. The key here is – does the app technology provider have a track record of keeping up with recent development trends and are they actively striving to push their platform forwards?
What are the best mobile app makers in 2022?
The app development market is rich, and multiple platform app development tools are available. Luckily, with low code tools, mobile app makers allow us to build great apps quickly. However, all app makers are not equal. So, we have handpicked the top 7 best tools for mobile app development.
1. Appy Pie mobile app maker
This app builder software is helpful for app and website development. Targeting no-coders, it can wrap an existing website into an app. Its design approach is drag and drop. App development in Appy Pie is a step-by-step process. Select a category, build, and publish your app. Real-time app preview boosts productivity.
No free account pricing option available, only paid, but you can get started on the app's design for free. After that, the annual Android and iOS apps package is $720 US per app. Plans have limits on monthly downloads, push notifications, and other features, which you have to pay to use. Premium features are available to gold and platinum plans only. It's flexible and easy and allows beta testing of apps. Even at this price point the app is still branded with the "Appy Pie" logos – you have to pay extra to remove that branding. There is no price point at which the app's source code is available to you. The app is entirely hosted by the supplier which is either an advantage or disadvantage depending on your requirements and local laws.
2. AppMachine
AppMachine is a cross-platform app builder for the web, iOS, and Android. The drag-and-drop interface combines different building blocks. You can choose your styles and design your layouts. Starting is accessible by selecting a template. You can convert your data into an app by importing spreadsheets or connecting web services. It also allows you to scan and port a website to a mobile app. It is suitable for simple apps. However, as your apps get complicated, the challenges can grow to become limiting.
Its pricing supports business and personal plans. The annual professional plan is about $756 for a single app. The business plan allows the creation of 30 apps with a yearly cost of $4,788. Monthly plans cost more. Apps created by AppMachine have a limited amount of allowed app actions, active app users, file storage, etc. Like the other fully hosted options in the list you must pay the annual subscription every year or your app will cease to work.
3. Mobile Roadie
Mobile Roadie is a visual apps builder software for iOS and Android. It can import all kinds of news feeds and media types. The app preview is very realistic. It can also guide you about app store submission. Push notifications with a variety of input formats are available. Some say it is a better fit for services and brands. Some giants, like Universal, Disney, TED, etc., use it to build their apps.
This application builder software is pricey due to its client list, although the company provides no open pricing compared to other products. Chat and fan walls are essential features more suitable for community building. Geo-targeting and location-specific content is also a helpful feature of this tool. They offer nine categories with pre-designed app templates. The process involves building, designing, managing, engaging, and analyzing.
4. GoodBarber
Its interface is immaculate and feels like WordPress among low-code app development platforms. They offer both shopping and classic apps. The main building blocks are articles, videos, photos, sounds, maps, forms, and calendars. Add-on features like geofencing and authentication make your app professional and robust. One-click checkout is suitable for shopping cart functionality. Google fonts and many beautiful icons are available. You can use it for iPhone, Android, and web apps.
As for pricing, a single app starts at $300 yearly. An Agency account allows unlimited apps with a $2400 yearly price tag. A limited free trial is available. Resource usage limits are for storage, push notifications, no of projects, and staff count. Apart from this pricing, it provides many functionalities through extensions. Each extension may have its monthly charges.
5. Appery
It is a cloud-based, low-code app development platform. For anything complicated, you need to do coding. Thus it may not be the best native app builder for no coders. However, the Appery stands in the middle of no-code and full-code. Thus it is also suitable for developers. It supports many JavaScript frameworks like ionic, Angular, JQuery, etc. In addition, it uses Apache Cordova to access native device capabilities.
As for pricing, there is no free plan. However, a 14-day free trial for its pro plan is available. Plans range from $25-$500 per month. This Apple and android app builder software is in a constant update state. Thus you have to wait for Appery to follow. The documentation is not always up to date. Also, if you want to develop anything non-basic, you may opt for in-house services at an additional price.
6. Gamesalad
Unlike other best low-code platforms, Gamesalad is helpful for 2D game creation in a fast low code manner. They claim to make your first game in an hour. However, You might use it as a learning tool for the basics of physics, gravity, and game design. It is a no-code solution to shift you from game player to maker. Features are limited compared to a game engine, but its ease of use is the key.
Plans range from $8-$25 per month when paid annually. Pro plan offers more features like iOS and HTML5 Apps development. However, they are slow to update, and people ask for many missing essential things. Gamesalad is good for basic games but unsuitable for large and complex games.
7. RAD Studio as a cross platform and low-code app maker
Embarcadero RAD Studio is the best low code platform on our list for many reasons. Its multi-platform approach allows the creation of all the cross platform apps you need from a single source. Its high-speed, native apps perform well and have a native look and feel.
A versatile and easy-to-use FireDAC data access library makes database development a snap. Low-code app wizard makes cross platform development fast and easy. A giant pool of full-source apps and samples and easy to use low code programming language are a lethal combination.
A rich collection of native and third-party components makes this low code application platform an app creation machine using the drag-and-drop method. In addition, built-in libraries and cross platform development frameworks make your job easier. However, you can still go as deep to the system level as you want to. Furthermore, its pricing is straightforward and economical. You can create unlimited apps without paying any royalty for a one-time license.
One of the key elements to consider, of course, is that any apps you create using RAD Studio are fully generated on your own computer and network. The entire source code and all necessary parts to code, build and deploy the app are there completely under your control. The 'build chain' is, in effect, wholly transparent and available to you to examine, and even change to suit your needs. No extra fees (other than the usual Apple and/or Google developer account fee) are payable for your app. If you create your app today Embarcadero will not ask for or receive another cent from your work – no royalties, no 'nickel and diming' of this feature or that feature when your app starts to get popular and pick up users, no subscriptions just to keep that app available and active in the Apple App store or on Google Play. No Embarcadero branding. Nothing. But then of course that's exactly the way it should be!
Which mobile app maker is best for development in 2022?
Mobile app makers have progressed a long way. Yet, to be successful in this fast-growing area, you need the best low code app builder. So, start your journey now by downloading one of the best native app builders for free.
---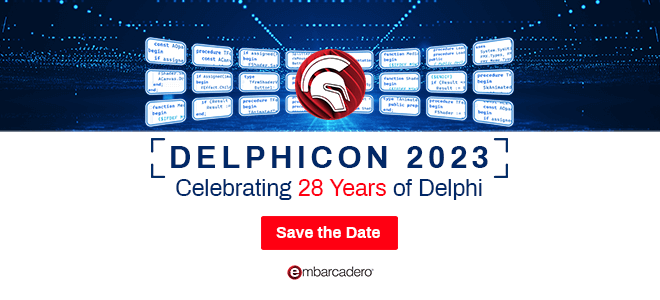 ---