Hello C++ Developers. In today's round-up of recent posts on LearnCPlusPlus.org we examine some of the alignment-related features of Modern C++, known as Alignment Support. These alignment features can be used with a modern C++ Compiler that supports C++11, C++14, C++17, and greater. 
When we talk about 'alignment' in C++ it means a set of hints or instructions that tell the compiler to place the physical representation of data structures and variables in memory so that they line up at specific intervals of bytes – the underlying digital representation of all data items. Alignment tells the compiler and linker to add additional 'space' to a value in memory so that the next object begins 'nicely' on a particular memory boundary.
This week, we teach you what is Alignment Support, what is alignment in C++, how we can use std::align, alignof, alignas, what is meant by a generalized constant expression (constexpr), and what is a forward Declaration enum enumeration.
Before everything, let's take a look at a recent article by Senior Embarcadero Product Manager David Millington where he discusses what we hope to see next in coming C++ Builder features.
Learn what's new next coming C++ Builder
According to David's post, C++ Builder is aiming to include some amazing features; CLANG v15, support for C++20 and a lot of C++23 features, Win64 primary OS, new code completion, Visual Assist C++ navigation and refactoring, and lots more.
Note also that a few weeks ago, Embarcadero also announced the release of RAD Studio 11 Alexandria Release 3, also known as RAD Studio 11.3, along with Delphi 11.3 and C++Builder 11.3. This release is focused on quality and improvements, building on the great new features in RAD Studio 11 Alexandria three previous releases.

What are the important features of the C++11 standard in modern programming?
The C++11 standard introduced alignment support as one of the many features of a Modern compiler for the C++ programming language. One of the new features of this support is a new keyword align std::align which is used to get a pointer aligned by the specified alignment for a size in bytes in consider with size of the buffer. In the first post, we explain how we can use align  https://learncplusplus.org/how-to-use-stdalign-in-modern-c/
Another part of Alignment support support is a new keyword alignof which is used for the alignment requirement of a type. In the next post, we explain how we can use alignof in Modern C++. https://learncplusplus.org/what-is-the-alignof-expression-in-modern-c/
In another example to Alignment Support, we can apply the alignas alignment specifier to define the minimum block size of data types such as the size of structs. In the next post, we explain how we can use alignas in Modern C++. https://learncplusplus.org/what-is-the-alignas-alignment-specifier-in-modern-c/
C++ is really awesome programming language that has many options to use variables in a way which can make your C++ App use less memory and app size. In the next post, we explain what are a constant, a constant expression (constexpr) and generalized constant expressions in modern C++. https://learncplusplus.org/what-are-generalized-constant-expressions-constexpr-in-c/
Understanding how to correct declare variables is important in programming, especially in a modern C++ Application. There is an enumeration method that allows you to easily enumerate (count or determine their place in an order) values in variables. In C++, enumeration is very important and widely used. In C++, enumeration can be done with an enum keyword which can be used in unscoped and scoped enumerations. There are some subtleties to declaring and using an enum especially if you use forward declaration of the enum. In the last post, we explain what an enum is, what a forward declaration is, and how to declare a forward enum Enumeration in Modern C++ along with some easy-to-understand examples. https://learncplusplus.org/what-is-a-forward-declaration-enum-enumeration-in-c/
Learn with examples about what the C++11 standard brings to modern programming today
LearnCPlusPlus.org has been producing daily articles for more than 2 years at the time of writing and is packed full of educational posts about C and C++. Here are our post picks for today.
We like to hear your feedback. You motivate us so much with your likes and comments on social media (find us on Facebook, LinkedIn, Reddit, Twitter and all over) and here on the blogs too. Thank you for your valuable comments and questions. All of them help improve the quality of our future posts and new code in these posts.
We have a lot of unique posts waiting to come. We keep adding new topics every week about C++ in general and specific topics for C++ Builder, Dev-C++, and for the other C++ compilers. Please keep following our LearnCPlusPlus.org website for the latest posts and updates. Feel free to comment and share with your colleagues, students, members – knowledge is power, and knowledge shared is empowering.
C++ Builder is the easiest and fastest C and C++ IDE for building simple or professional applications on the Windows, MacOS, iOS & Android operating systems. It is also easy for beginners to learn with its wide range of samples, tutorials, help files, and LSP support for code. RAD Studio's C++ Builder version comes with the award-winning VCL framework for high-performance native Windows apps and the powerful FireMonkey (FMX) framework for cross-platform UIs.
There is a free C++ Builder Community Edition for students, beginners, and startups; it can be downloaded from here. For professional developers, there are Professional, Architect, or Enterprise version.
---
Register for Python GUI Apps Con 2023 today!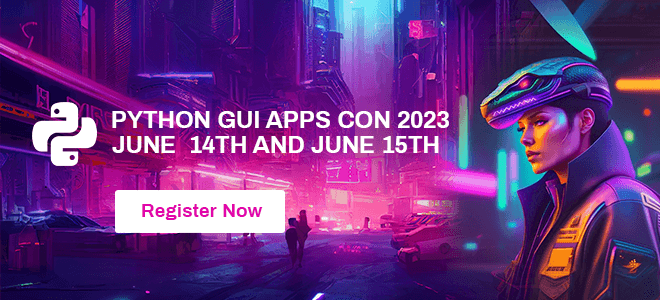 ---