Developers are under increasing pressure to reduce development cycles and keep up with changing platforms. Here's how Embarcadero is making that easier through the Update Subscription program. I want to share our plans to continue evolving it, as well as other exciting news about RAD Studio and Delphi.

Making Update Subscription More Valuable for Customers
Today, subscription models are standard practice in the software industry. Embarcadero developed a modified program that keeps true to our perpetual licensing tradition, yet implements important elements of subscriptions that allows customers to stay current on the latest RAD Studio tools more efficiently. We estimate that Update Subscription saves over 50% compared to the old upgrade model, especially as update cycles are shortening. Of course, the math for each customer may differ. The overarching objective, however, is to continue to build value into our Update Subscription program, so it becomes a "no-brainer" for you. In return, we can plan our release cycles focusing on stability and use cases that are practical versus chasing the "the next big thing." Our Product Management team constantly reviews and brainstorms how to make Update Subscription more valuable for you. We are doing this in a number of interesting ways.
Why Staying Up to Date Works for You: Keep Up With Rapidly Changing Platforms
Platforms are changing faster than ever before. Microsoft releases Windows versions more frequently, and as with any software company, is always challenged to balance between features and quality. The good news for developers starting to or already supporting Windows 10, is that Microsoft is still focused on innovating the Windows 10 platform.
The Microsoft team themselves praised RAD Studio for keeping current on features, in some cases faster than Visual Studio itself. For folks still on Delphi XE7, it is probably time to consider upgrading your apps to support Windows 10 if you haven't done so already.
Embarcadero's not only keeping up-to-date with Windows but also evolving our FireMonkey (FMX) cross-platform framework and collaborating with partners to increase the portfolio of available components and functionality. Because we're now cross-platform, multi-platform, and expanding our offerings, this increased fragmentation of "clients" means we rely on customers' feedback to prioritize FMX platform support. Our Update Subscription customers do have a priority vote. Making sure that you are heard is a great way to contribute to the future of Delphi (and C++ Builder, too).
More Free Tools Included With Your Update Subscription
Free Styles – We have over 30 free VCL and FMX styles and plan to continue to grow the list. While these are not expensive independently, multiple customers requested the option having the option to pick and choose and we deliver with 10.3.1. These styles help developers quickly apply and update their apps' user experience (UX). We plan to add more each month, another benefit of the Update Subscription program
Partner Tools – We are working with our partners to expand the offering of free tools available in GetIt every few months
Mobile Templates – We plan to add several each month. Some of the existing templates have been hugely popular. Our FMX Forms Pack gets about 2,000 downloads per month. To make this more fun, we will also engage some of our MVPs and customers to create a larger variety for you to use as the basis for your code.
More Free Training for Update Subscription Customers
While we pride ourselves on ease-of-use and an outstanding user interface experience for developers, we know from surveys that training is important to a lot of people.
Mobile App – We recognize that building mobile apps is different from Windows apps and requires quite a bit of setup independent of RAD Studio (largely due to the different OS and SDKs). We built a special Mobile Class for Delphi developers. The class will be available for FREE on Embarcadero Academy for Update Subscription Customers (a $999 value). Some partners may offer an instructor-led format as part of new license purchases.
RAD Server – We are improving RAD Server, and David Intersimone (David I) is developing a new comprehensive manual. We will offer a FREE RAD Server class on Embarcadero Academy led live by David I for our ENT/ARCH Update Subscription customers (a $599 value).
Easier Upgrade Cycles – Migrating to a new version of Delphi, C++Builder or RAD Studio is easier to manage if you go into it with the right process. We are developing a guide, written to be a simple introduction to migration and source code management, that will help with the entire migration process, and will identify free tools as well as commercially-available tools useful in this process.
EDN Evolution – We are investing to update the Embarcadero Developer Network (EDN) portal. Phase 1 (Licensing) is complete and Phase 2 (Downloads) will be complete by May. We are adding features for our Update Subscription customers, including easier ways to manage keys, account information, and access downloads. One important change is that users that are not on Update Subscription will no longer be able to access EDN. We plan to offer our Premium Update Subscription customers access to exclusive EDN content.
Why Updating to RAD Studio Architect is a High-Value Proposition
Extending FMX to all Professional customers was hugely popular and resulted in customers building some great new apps. Of course, there are plenty of customers that still focus only on Windows, but there is plenty of opportunity to get more value if you try something new such as supporting macOS, Linux, iOS, or Android based on what your application users prefer as clients.
You may or may not have noticed, but RAD Server is now included in the Enterprise and Architect editions. With features such as multi-tenancy, security, JS portals, beacon fencing, and much more, it is an ideal back-end or middleware platform. Combined with the robust client/server development toolkit in RAD Studio Enterprise Edition (ENT), it makes for a highly productive team. Unlike other vendors, We do not require large teams to be on Enterprise Edition (ENT), unlike other vendors, but we make it easy to upgrade to ENT. Speak with your Sales rep to evaluate your options, especially if you have 5 or more developers.
InterBaseToGo for Mobile (embedded InterBase with encryption) is also FREE for Enterprise and Architect ENT/ARCH users! On the server side, InterBase has a number of enterprise features, including a patent-pending "Change Views" that is unmatched by any other embedded database. We are excited by InterBase's roadmap and encourage you to give it a try.
Importantly, the Architect Edition now includes a full Sencha Ext JS license ($1,800+ in value), Aqua Data Studio license ($499 value), Ranorex Studio extended trial (available for new purchases), and we are adding more. Combined with the unlimited RAD Server license, Architect is the must-have edition for any developer or team that wants to build serious multi-tier apps.
As we add features and tools to our SKUs, Update Subscription customers get all of the benefits.
We have a lot in store for you in 2019. Let's keep the Delphi momentum going!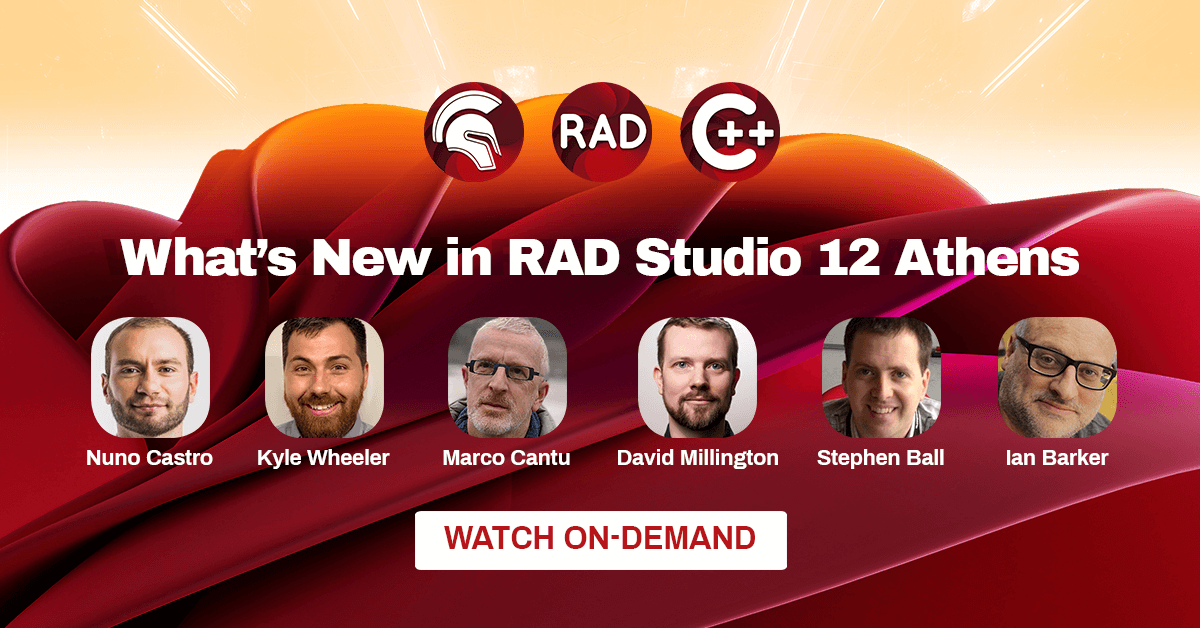 ---