Getting a steady flow of new clients is the lifeblood of any business and one of the best ways to do it is through professional networking, but creating the opportunities can be hard. What's more important is being ready to capture the opportunity once it does appear.
Professional networking events are a great way to build your connection and reputation, and capture the attention of prospects who may become your clients or recommend you to their own circle. What can you do to make networking work for you? How can you get a prospect you meet at a networking event to:
1) Recognize and remember you
2) Show interest in working with you
3) Become your client
Each of these stages in your relationship with prospects has a "secret" to it that always works. Understand and apply them, and they will make driving a steady flow of clients to your business much easier. Let's look at them in turn.
1) Stand Out – Use Personal Branding To Be More Recognizable
At any networking event, taking up space in your prospect's mind and memory is the ultimate goal, and the prerequisite for evaluating prospects for collaboration.
In this context, personal branding is a great way to stand out consistently and add value to everything you say. Personal branding is about recognizability and authority. It is also about pre-selling, crossing the boundaries of first impressions and introductions even before you meet your prospect, or crossing them very quickly after you meet them.
Branding gives you the opportunity to define who you are and what you can do for your customers. It will help you define who you're interested in working with, what you want to collaborate on, and all the terms around that collaboration. It will also help define you as an expert in your field, which means the prospects you attract will already be half-sold, making your job much easier.
We will look at the components of a great personal brand in a future post.
2) Connect – Use Empathy to Make The Encounter About Them, Not You
Empathy in the context of business networking is the ability to view a situation from your prospect's point of view. Understand how your prospect thinks, what they need, and how they want to fill that need before deciding how to approach them.
People enjoy talking to people who respond to what matters for them. Talk more about what interests them and less about what interests you. Even better, find a shared area of interest, and not necessarily in the professional sphere.
Mastering the skill of getting people to feel comfortable with you will lead smoothly to an exploration of how you and your prospect can collaborate.
3) Take The Next Step – Know Exactly What You Want From The Prospect
You've met a prospect at a networking event and you've established good rapport. Now what?
Building up to a good opportunity and not knowing what to do when it appears would be a tragedy for your business. When a prospect shows interest in working with you, be ready with the next step fully worked out. Will it be a call, a meeting, a presentation? Do they expect you to email them?
What's the best available option? It may differ with each case, but what's important is to create the space for you to present your work in the best light possible, and get the prospect to commit to a collaboration. Face-to-face meetings or Zoom calls are better than emails and attached documents. Personal is always better than impersonal.
4) Bonus Step: Have a Special Offer
If you've come far enough with a prospect that the time has arrived to make an offer, make that offer a clincher, an "irresistible" offer that will help you seal the deal. One sure way to do this is to deliver so much value that the price stands out as a bargain and the competition gets left behind. Few can ignore such an offer.
Conclusion
Driving clients to your business is a challenge, but it doesn't have to be completely left to chance. Master these three pillars (and the bonus step), and getting your next client will be less about chance, and much more of a game of skill and professionalism.
As you build your professional network, also remember to make use of third-party community sites based around Embarcadero tools and frameworks, where you will find developer forums, Stack Overflow, Reddit and Linkedin sites, and more. Click here to visit the third-party community sites.
---
Register for Python GUI Apps Con 2023 today!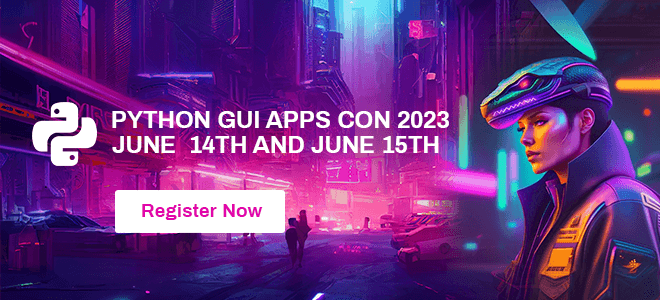 ---