We are pleased to announce that the next version of Delphi, C++Builder and RAD Studio will be version 11. This is currently in the works and we plan to release it later this year.
Moving to Version 11
A few years back, Embarcadero decided to match the version number of the two primary desktop operating systems we target (Windows 10 and OS X, later renamed macOS 10) with a series of RAD Studio 10.x releases: 10 "Seattle", 10.1 "Berlin", 10.2 "Tokyo", 10.3 "Rio", and 10.4 "Sydney".
In light of the recent changes in macOS versioning (currently at version 11) and Microsoft's recent announcement of a coming Windows 11 version, we have decided to change our product numbering scheme accordingly. Windows, in particular, remains a key target for us, with the best library to build Windows client UI applications, our own VCL and we want to underline this strong connection.
Therefore, the next major release of RAD Studio, Delphi and C++ Builder, originally expected to be 10.5, is going to be version 11. We expect it to be followed by minor updates with version numbers like 11.x and a future new major release called 12.
RAD Studio 11 will build on the great features introduced in RAD Studio 10.4 series and will add new features and enhancements throughout the product, with particular focus to the Integrated Development Environment (or IDE), that is, the RAD Studio application itself.
The Olympus Beta Program
At the same time of this version number announcement, we are pleased to invite all of our RAD Studio customers with an active update subscription to the NDA beta program for Embarcadero's Delphi, C++Builder, and RAD Studio 11, codenamed "Olympus".
Differently from the past, there are two separate beta programs, one for Premium Update Subscription customers and the second for all other Update Subscription Customers (the beta program, in fact, is reserved to customers with an active subscription). The Premium beta program includes as an extra benefit an online forum for beta-related feedback and discussion, where you can engage with product experts, product managers, and fellow beta testers.
How to join for Premium Subscription Customers
Premium subscription customers have received an email invite (sent to the primary contact for their subscription) and can join by adding their registration email address to a specific form included in the communication. If you haven't received it and want to join the Premium beta, you can reach out to your sales representative or reseller partner.
How to join for regular Subscription Customers:
We have also sent an email to all subscription customers, indigent them to participate in the regular beta. In case you haven't received it, please provide your name and the email address associated with your Update Subscription (the email you used to register the product) using this form by Friday, July 16, 2021.
For both groups, once you've provided your email address, you will receive a follow-up email later in July, with a link to electronically sign the Olympus Beta NDA. After signing the NDA, you will be provided with the information needed to participate in the beta. Please note that we recommend against installing beta versions on a production machine.
Join the Subscription to Join the Beta
Not currently on subscription but interested in joining the Olympus beta to get a preview of RAD Studio 11? Contact your Embarcadero sales representative or reseller partner to buy the latest version or renew your subscription and be invited to join the regular or Premium beta program. 
---
Register for Python GUI Apps Con 2023 today!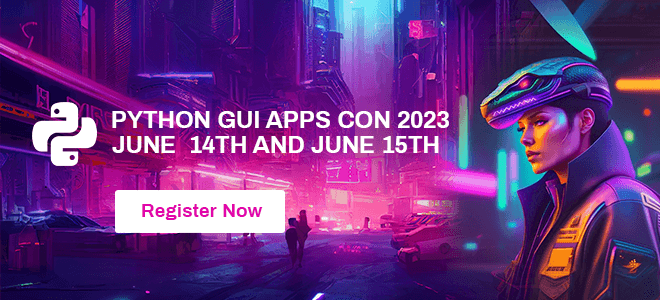 ---