Italian translation of New Embarcadero Licenses and Download Portal
Una delle aree d'interesse di Embarcadero, oltre al lavoro su RAD Studio e altri prodotti, è il miglioramento dell'esperienza utente nel suo complesso. Come parte di questo compito, ci siamo impegnati a sostituire la vecchia infrastruttura del sito Web EDN (Embarcadero Developer Network) rendendola più moderna e fluida.
Le aree chiave su cui ci siamo concentrati sono la possibilità per i clienti di accedere alle licenze registrate con i loro account e di scaricare qualsiasi file associato a queste licenze. Tenete presente che gli account EDN in sé non cambieranno, preservando tutta la vostra cronologia. Quello che stiamo offrendo è un nuovo sito web che sostituisce:
members.embarcadero.com per la creazione di account, la gestione della password, l'elenco delle licenze Embarcadero associate all'account

cc.embarcadero.com per scaricare i file d'installazione degli utenti registrati, le patch e i contenuti aggiuntivi
Il nuovo sito offre le tre funzionalità (gestione degli account, licenze e download) con un'applicazione Web unificata e un menù "hamburger" laterale che offre le tre opzioni principali. È possibile accedere al nuovo sito Web all'indirizzo:
Ciò che è importante notare è che il sito offre più dati rispetto ai siti che sostituisce, in particolare per quanto riguarda l'Update Subscription. Ogni licenza, infatti, comprende l'indicazione degli abbonamenti associati e la relativa data di scadenza. Inoltre, le autorizzazioni di download sono separate per i clienti con o senza un abbonamento attivo.
Breve panoramica
Nel resto di questo blog post, farò una rapida introduzione, anche se il sito è abbastanza intuitivo da usare. Questa è la pagina iniziale delle informazioni sull'account:
La seconda pagina offre informazioni sulla licenza e consente di raggruppare i dati, ordinare le righe, nascondere singole colonne e altro. La colonna Componenti elenca i dettagli della licenza (ad esempio, prodotti aggiuntivi forniti insieme a una licenza RAD Studio). In questa schermata ho disabilitato la colonna Numero di serie per nascondere le informazioni private:
La terza pagina contiene tutti i download degli utenti registrati (e alcuni pubblici) a cui il cliente ha diritto. Il contenuto e la disponibilità di ogni download dipendono dalla licenza (o dalle licenze) che l'utente registrato possiede. Si tratta in genere di un elenco abbastanza lungo, anche in questo caso con il raggruppamento e l'ordinamento abilitati:
È possibile selezionare ogni voce per visualizzare informazioni aggiuntive (una descrizione, il checksum MD5) e il link per il download vero e proprio:
Si noti che ogni singola pagina di download ha un URL univoco, che è l'indirizzo che pubblicheremo quando faremo riferimento a uno specifico file di download.
Osservazioni finali
Voglio ricordare che il nuovo sito, o applicazione web, è costruito con Sencha ExtJS (un altro prodotto della famiglia degli Strumenti di Sviluppo di Idera), ed è una bella dimostrazione di ciò che è possibile ottenere con questa libreria JavaScript e la sua componente di griglia. Le pagine che mostrano una griglia possono essere configurate in molti modi, usando il menu della griglia locale come nella figura sotto per la pagina dei download:
Abbiamo molti altri sviluppi in fase di realizzazione che miglioreranno ulteriormente l'esperienza utente di questo sito del portale clienti.
Un'ultima nota. Attualmente stiamo pianificando di mantenere attivi i siti web più vecchi (membri e cc) per alcuni mesi ancora, ma alla fine li disattiveremmo per concentrarci solo su my.embarcadero.com come portale clienti.
---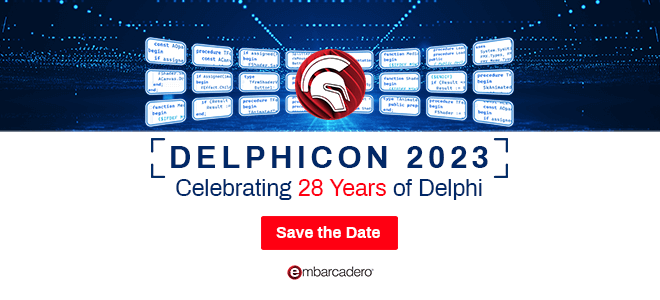 ---