Hello C++ Developers. In recent weeks there was another milestone when the latest RAD Studio, C++ Builder 11.3 was released. This release focused on quality and a myriad of improvements. For C+ Builder specifically, code compilation is highly improved and there are many more improvements and a whole raft of fixes in 11.3 that go into making this a good choice of modern C++ app builder.
How to use very large numbers in C++ and other top tips
In today's round-up post from LearnCPlusPlus.org we have examples about the Boost C++ Libraries which is a set of C++ libraries that you can use to help with computational operations. The Boost libraries help make it easier to use very large integers and real numbers with almost any C++ IDE and compiler. In the first two articles, we explain how to work with very large Integer numbers and very large floating numbers in C++.

Also in today's selection, we discuss keyboard events such as a key being held down or a key press (key down, key up) being completed. We also explain how you can use keyboard events of C++ in FMX and VCL applications on Windows.

Finally, we discuss templates in C++ which are a very important and well-used feature of C++. A template is a powerful and very commonly used C++ technique which lets you write code once, but have the same code apply to (be instantiated for) different types. This avoids writing the same thing multiple times. A simple example is when you define a vector: std::vector or std::vector. The template parameter, here the types int or double, result in different code being generated. The author has written the vector code once, but the compiler generates different results. This technique is called template metaprogramming. We show you how extern templates can be used in a modern C++ app based on recent C++ standards.
Learn what's new in RAD Studio and C++ Builder 11.3
Embarcadero announced the release of RAD Studio 11 Alexandria Release 3, also known as RAD Studio 11.3, along with C++Builder 11.3. This release is focused on quality and improvements, building on the great new features in RAD Studio 11 Alexandria's three previous releases.
Here is an official webinar replay about What is New in RAD Studio 11.3 Alexandria.
How to use very large real and integer numbers, extern templates, and keyboard events in C++
LearnCPlusPlus.org has been producing daily articles for more than 2 years at the time of writing and is packed full of educational posts about C and C++. Here are our post picks for today.
We like to hear your feedback. You motivate us so much with your likes and comments on social media and here. Thank you for your valuable comments and questions. All of them help improve the quality of our future posts and new code in these posts.
We have a lot of unique posts waiting to come. We keep adding new topics every week about C++ in general and specific topics for C++ Builder, Dev-C++, and for the other C++ compilers. Please keep following our LearnCPlusPlus.org website for the latest posts and updates. Feel free to comment and share with your colleagues, students, members – knowledge is power, and knowledge shared is empowering.
C++ Builder is the easiest and fastest C and C++ IDE for building simple or professional applications on the Windows, MacOS, iOS & Android operating systems. It is also easy for beginners to learn with its wide range of samples, tutorials, help files, and LSP support for code. RAD Studio's C++ Builder version comes with the award-winning VCL framework for high-performance native Windows apps and the powerful FireMonkey (FMX) framework for cross-platform UIs.
There is a free C++ Builder Community Edition for students, beginners, and startups; it can be downloaded from here. For professional developers, there are Professional, Architect, or Enterprise version.
---
Register for Python GUI Apps Con 2023 today!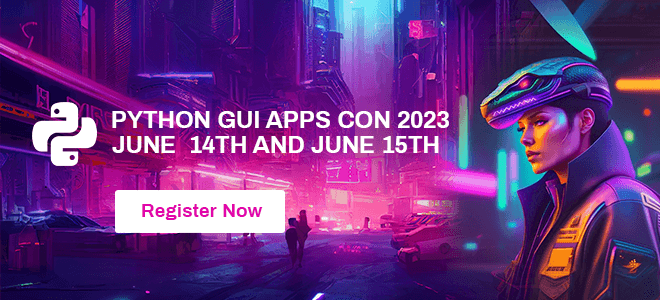 ---