See first hand how to develop faster with the extra features included in the RAD Studio Architect edition, including Aqua Data Studio, Sencha Ext JS, Ranorex. This low code RAD demo includes the development of Web, Mobile, and Desktop UI's with a RESTful server. In the webinar Stephen Ball, Mary Kelly, and Alex Ruiz will discuss and demo Aqua Data Studio, Sencha Architect, and RAD Server, all following a complete use case covering data discovery, middle-tier development, and mobile and web user interface delivery.
Features
ProfessionalSuited for individual developers and small teams building desktop and mobile apps
EnterpriseSuited for development teams building client/server or multi-tier apps, REST services, and similar
ArchitectSuited for enterprise teams building database, cloud, or web-enabled apps
Promotional: FREE Web Pack (Limited Time)
✓
✓
✓
Support for both C++ and Delphi development in single IDE
✓
✓
✓
Build native Windows Applications with High-Performance UI Framework and Components (VCL) 
✓
✓
✓
Build Mobile First, Cross-Platform Apps with Native Experience UI Framework (FMX) and Components (iOS, Android, macOS, Windows)  1 2
✓
✓
✓
Run-Time Library source code 
✓
✓
✓
Full Commercial use license 
✓
✓
✓
Connect to local databases and build data-aware applications with support for multiple data sources with FireDAC 
✓
✓
✓
InterBase Embedded Database 
✓
IBLite Mobile Deployment
✓
IBToGo Mobile Deployment
✓
IBToGo Mobile Deployment
Build connected apps with support for remote and enterprise data sources with FireDAC 
✓
✓
Build Linux client / server applications (includes FMX GUI for Linux)  1
✓
✓
Build your REST web services on Linux or Windows with RAD Server  1
✓
Development tools and Single Server Site Deployment
✓
Development tools and Deployment to Multiple Server Sites
Connect with the cloud using Enterprise Connectors (CData) 
✓
✓
Database Development and Management 
✓
Ext JS Web Development Framework (Pro) 
✓
BUY NOW
BUY NOW
BUY NOW
---
Register for Python GUI Apps Con 2023 today!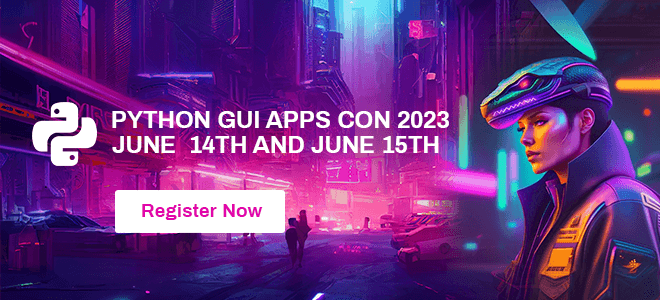 ---