You know a lot about low code app development if you follow us. The beginner's guide was the initial tutorial/article about low-code platforms. In that article, we have explored and learnt new things about no-code platforms in certain ways.
If you have not read that article, here you can see what you can learn from it:
No-Code Movement
Differences between Low-Code Platforms
Why Low-Code Tools Matter?
When Should You Not Utilize Low-Code Developer Tools?
Low-Code and Traditional Engineering
Just check out the article here:
Additionally, this article called 20 Fun Facts About The Best Low Code Platforms is helpful to really understand what is happening in the low code app development industry and other facts, for instance:
Future of the Low-code Market?
How and Where to Apply Low-Code Platforms
Facts with Numbers related to Low-Code Industry
Top Tech Companies' Approach to Low-Code Tools
and more
Here go check out the article here:
Now you have the resources to learn about all the necessary things, and directly we can be fully involved in the pros and cons of low-code app development platforms.
As per Gartner, the clamour for application development is expanding five times faster than IT's ability to meet it. Business owners request more web applications, and IT departments struggle to keep up.
Since developing apps and software services from the ground up to take time and demands higher engineering, which also costs money, business owners are handing these problems to low-code developers. Low-code app development is fast and pretty much cheaper than traditional software development.
Moreover, Low-code development tools do not require deep coding or complex problem-solving abilities from the developer. These platforms provide you with dozens or hundreds of built-in components and functionalities that you can build service by building blocks. But using low-code or no-code platforms do have its drawbacks.
Does low code mean low security?
If you apply low-code development tools without IT's knowledge, you do not know about security-first software. When you create apps with low-code platforms, you do not see any code, and you cannot alter the source code to make the process or transaction more secure. Additionally, you do not know how the source code is produced while you are developing by putting blocks of functions together.
Of course, there is always a better ecosystem to develop secure and cross-platform native applications. For instance, Delphi with FireMonkey framework provides traditional and low code software development. The best thing is to mix those and create compelling applications in no time and target multiple platforms with a single code base.
FireMonkey framework is one of the best cross-platform and stable frameworks for any use:
Business Apps
Game Development
2D & 3D Development
Utility applications to talk with hardware-specific functionalities
Mobile, Web, and Desktop, all you need is here
Huge third-party component pool to optimize the development process
Thousands of hours of official workshops by experts to learn
It doesn't matter how stunning the looks are if the user experience is sluggish or unresponsive. On PCs, tablets, and mobile devices, FireMonkey-powered applications take full advantage of today's hardware with native CPU performance and GPU-powered visuals.
Do low code platforms produce solutions more quickly than other alternatives?
As we said earlier, a low-code platform provides you with all the available building blocks for you, and you need to put them to create a functional application.
Eliminate the coding and debugging process
Reduce testing
The most low-code platform generates a template to quick start the project. Since they are pre-tested templates, you do not have to worry about testing them.
As we mentioned pre-created templates in the low code development platforms, Delphi also offers FireMonkey Low Code App Wizard. FireMonkey Low Code App Wizard lets you quickly start a business-grade application with just several clicks.
The FireMonkey Low Code App Wizard is the extension for the RAD Studio, which extends the functionality and improves application development. Moreover, it follows strict rules to create pragmatic source code for the project. Through this, you can learn several use cases.
You don't want to recommend something that will limit your client or organization if you're a technology advisor. The most outstanding low-code development solutions give you the freedom to expand and grow. Delphi excels in this area as well.
Does low code mean you can't customize the final app?
This gets crazy. Let's think about a situation where you need to connect to a web service to fetch data, and you do not have a built-in component that provides a smooth connection, and you have to abandon the whole project because of it. Yes, this happens. Low-code platforms do not allow you to customize any of their code, and you have only limited to the options given by the service you are using.
As we said earlier, with Delphi FMX with Low Code App Wizard, you can quickly generate a fully-functional cross-platform native application. Also, you can do customization as much as you want.
The app Delphi creates for you can be customized via the wizard, but you can select any of the following options:
User accounts: sign up, sign in, and a profile screen with hooks for your authentication
Settings screen where you can change the app theme light or dark, plus some example settings you can reuse or extend
Contacts screen
Terms of Use, About, and Privacy policy screens, easily configurable for your data
A database layer: using Interbase, store data in your app
An example is a new screen you can use as a template or model for adding new functionality
Does low code mean you are tied to one vendor?
Several platforms provide everything in one platform. While it gives the ability to do almost everything in one place, they do not offer an option to extend your application to external platforms. This is like they lock into their platform. Moreover, each platform has different policies, ensuring you can maintain your project outside the platform.
You can utilize GetIt Package Manager to rapidly improve the functionality of your applications by downloading and integrating new components. This helps to extend the IDE with tools and components from various vendors. Moreover, you can easily extend the IDE even further with add-ons and plugins from dozens of third parties and customize the IDE as much as you want.
This is no secret that low code is not the future of code. Nonetheless, Low-code has its future and significant market share for e-commerce web apps and other services. But this will not replace other ways of creating software.
Here's a summary of the pros and cons of low code app development platforms
Now that we comprehend the significant benefits and drawbacks of low-code methodology, we can see that it is not intended to replace traditional development or professional software providers. It is one of the ways of developing applications and web service with lower engineering skills. As you can see, Delphi with FireMonkey is another perfect platform for creating cross-platform applications with high productivity.
Check out the latest version of Delphi here and get your 1 month of free trial!
---
Register for Python GUI Apps Con 2023 today!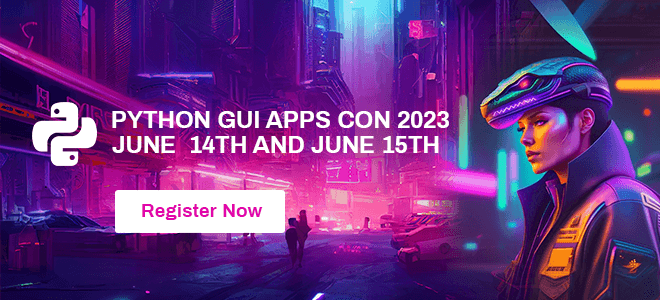 ---