BioniX is a world famous wallpaper switcher/changer (according to the developer) that allows you to fully take control over your desktop and it is built in Delphi. The developer states, "It is the choice of millions of users all over the world and winner of multiple awards from renowned reviewers and critics." According to the developer, "BioniX offers unique features that no other background switcher offers. For example, with "Lock on folder" you can monitor a folder and automatically update the playlist when wallpapers are added to that folder. Another cool feature is 'Day/night' which allows you to display a specific wallpaper on your desktop based on your local time (for example sunrise wallpapers in the morning and sunset wallpapers in the evening . You can choose which wallpaper appears at which hour of the day. Find a non-exhaustive list of amazing features here."
Some of its features:
Animated desktop wallpapers (video & GIf)
Day/night wallpaper
Automatic background color detection
Desktop calendar
Special effects (tile, mirror, rotate, etc)
Color enhancement
Flip wallpaper
Multi-monitor support
Panic! button
Clock wallpaper
Timed wallpaper changer
3D animated wallpaper (The matrix)
Live webcam as wallpaper
Photo pile (collage)
Website
Screenshot Gallery
Submit your own showcase app to the Delphi 26th Birthday Showcase Challenge!
---
Register for Python GUI Apps Con 2023 today!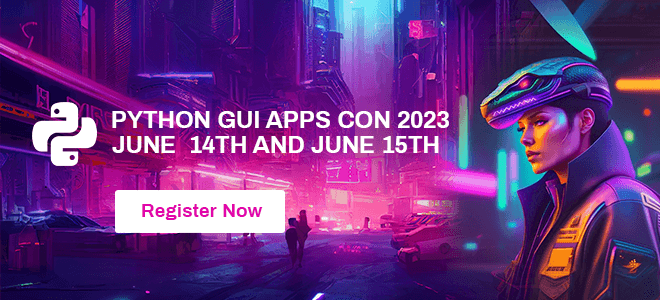 ---