Roshan Gerard Bolonna has been using Delphi since 2005. He has a showcase entry (
MySQL Direct Backup
) submission in the
Delphi 26th Showcase Challenge
and he explained more about it through an interview. You can checkout their application through
MySQL Direct Backup website.
When did you start using RAD Studio Delphi and how long have you been using it?
My interest in Delphi started after using the Turbo C++ back in 2005, when developing Win32 applications, and found that Delphi has a lot of features and easy-to-use libraries.
What was it like building software before you had RAD Studio Delphi?
RAD Studio is extremely rapid application-oriented and provides all the necessary components to fulfill a software requirement compared to most solutions provided in Visual Studio and other software solutions.
How did RAD Studio Delphi help you create your showcase application?
As I mentioned earlier rad studio is extremely rapid application-oriented, this is my very first mobile application developed while learning Firemonkey for the first time. This really proves RAD studio has really good features to get the work done fast and is easy to learn.
What made RAD Studio Delphi stand out from other options?
Interesting features and interactive software components that allow to development of applications with minimum coding involvement.
What made you happiest about working with RAD Studio Delphi?
Native performance & complete support for Win32 API and a huge component library.
What have you been able to achieve through using RAD Studio Delphi to create your showcase application?
Customer requirements that cannot be fulfilled by other software solutions, such as remote MySQL native direct backup application.
What are some future plans for your showcase application?
A serial port data monitor based on Delphi using the VCL.
---
Thank you, Roshan! Click the link below to view Roshan's wonderful showcase entry.
Showcase
---
Register for Python GUI Apps Con 2023 today!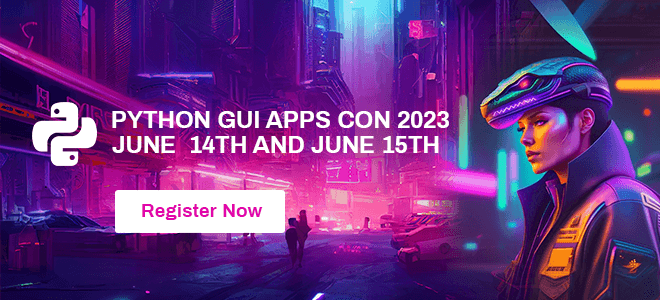 ---