Fully developed in Delphi, the CNC Monitor is a platform (mobile and Web) that collects and digitizes Data from CNC machining machines (Works with CNC) homogeneously, even with different technologies, such as: CNC command manufacturers ( Siemens, Mazak, Brother, Haas, Mitsubishi, Fidia, Fanuc, Fagor, Heidehain and Mitsubishi) or protocols (OPC UA and MTConnect). The captured Data can be monitored in real time through production indicators, management graphics and important insights about the industrial factory floor.
According to the developer, "Technologies from industry 4.0, such as IIoT (Industrial internet of things) make the CNC Monitor increasingly sought after, as it allows the user to monitor in a simple, refined and real time what is happening on the factory floor, allowing corrective and improvement actions to be taken much more quickly.
Single platform with access to Data from CNC machines from different manufacturers, commands and protocols;
Possibility to integrate with several platforms (ERP, MES, BI, Siemens MindsPhere, etc.);
Possibility to customize alerts to take immediate corrective actions, saving time, money and keeping production active.
Management in sight with a dashboard on the factory floor ( employees can monitor the factory's performance in real time);
Reliable Data to scan the shop floor and make more assertive decisions.
CNC Monitor  2.1 Version  is being developed to serve new markets beyond to Brazil, so the platform that was already bilingual (Portuguese-BR and English) became multi-language with the addition of Spanish language. Another novelty it's the new features for customizing rules and the possibility of adding new hardware, such as automation systems that use PLC, so that this Data is also part of the platform. Since its launch in 2019, new commands and communication protocols have been added, making CNC Monitor the largest monitoring platform for CNC machines in the world."
Website
Screenshot Gallery
---
Register for Python GUI Apps Con 2023 today!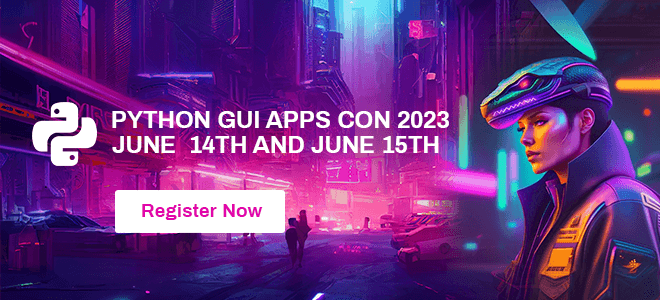 ---