Swing Technologies bietet die neueste Technologie in der Swing-Analyse-Software für Golf und andere Sportarten und wurde in Delphi entwickelt. SwingView Pro TM ist eine Suite von funktionsreichen, benutzerfreundlichen und vor allem erschwinglichen Programmen zur Bewegungserfassung und -analyse. Der Entwickler erklärt: "Es unterstützt die neuesten Laptops und Computer, einschließlich Windows 10, mit Touchscreens. SwingView Pro wurde von Profis für Profis entwickelt, um eine umfassende Software-Suite für die Videoanalyse bereitzustellen. Es bietet optionale Schussdaten für das Gleichgewicht und die mit dem Schwung angezeigten Schüsse. SwingView Pro ist das Hauptprogramm der Analyse-Suite. Es bietet Bewegungsvideoaufnahmen mit Ton- oder Bewegungsauslösungstechnologie, um jeden Schwung während einer Lektion automatisch zu erfassen und zu speichern. Es verfügt über eine große Auswahl an Analysewerkzeugen, um Ihre Schüler zu beeindrucken. "Diese Software sieht toll aus. Ich mag den Screenshot des Screen Capture-Modus, in dem alle Frames des Swings zur Analyse auf eine einzige Ansicht gelegt werden.
Webseite
Screenshot-Galerie
Submit your own showcase app to the Delphi 26th Birthday Showcase Challenge!
---
Register for Python GUI Apps Con 2023 today!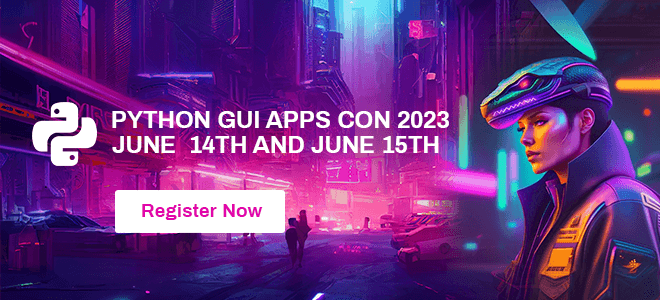 ---