Das Wetter auf der Nordhalbkugel ist heiß, das heißt, es ist Zeit für das jährliche von Embarcadero gesponserte Learn to Code Summer Camp ! Unsere Summer Camps und Boot Camps waren in den vergangenen Jahren ein Riesenerfolg. Dies ist Ihre Chance, sich online zu treffen und von den besten Trainern zu lernen. Das Sommercamp 2021 läuft von Montag, 26. Juli bis Freitag, 30. Juli 2021. Das ist eine ganze Woche lang kostenlose Online-Schulungen der besten Trainer zu den besten Entwicklungstools .
In diesem Jahr erweitern wir das Angebot: Mit PyScripter als kostenlosem Tool, das von Embarcadero gesponsert wird, bieten wir jetzt Kurse zum Erlernen von Python sowie Delphi/Object Pascal, C++, SQL und Webtechnologien wie HTML und JavaScript an. Über die Grundlagen des Erlernens der Sprachen hinaus planen wir, Themen wie: mobile Entwicklung, Android, iOS, Linux-Server, Windows-Desktop, Spieleentwicklung, Webentwicklung, Datenbanken und mehr abzudecken!
Beim Learn to Code Summer Camp dreht sich alles um das Programmieren lernen. Der Inhalt richtet sich an Personen mit wenig bis gar keiner Programmiererfahrung oder an jemanden, der eine neue Sprache erlernen möchte. Wenn das nach Ihnen klingt, dann melden Sie sich als Student an . Wenn Sie stattdessen Erfahrungen haben, die Sie teilen möchten, dann melden Sie sich als Freiwilliger an ! Auch wenn du noch nicht weißt, was du abdecken möchtest, aber gerne dabei sein möchtest, freuen wir uns über deine Hilfe!
Bleiben Sie auf dieser Seite für weitere Informationen!
---
Register for Python GUI Apps Con 2023 today!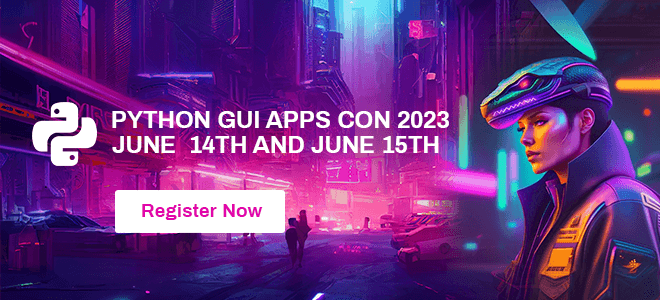 ---