SmartCap® Visualizer de CMT es una aplicación multiplataforma (Windows, iOS, Android) que se conecta a un SmartCap® que se lleva debajo del casco del atleta a través de BLE y envía datos del sensor en tiempo real a la aplicación y se desarrolla en Delphi. Según el desarrollador,"Es compatible con todas las aplicaciones deportivas y militares donde se producen impactos en la cabeza. Mide múltiples "BioSensores" para monitorear la salud y el bienestar de los atletas, antes, durante y después de un evento de impacto, y mantiene una integración acumulativa de impactos a lo largo del tiempo. El visualizador SmartCap® admite grabación de datos continua "siempre activa", revisión / reproducción / análisis de datos (incluso mientras se registran nuevos datos), sincronización de video integrada, "Modo carrera" para que los conductores de autos de carrera monitoreen sus propios signos vitales durante una carrera, múltiples atletas, dispositivos, deportes y equipos. Solo Delphi es compatible con las exigentes necesidades de esta aplicación: integración multiplataforma de recopilación de datos BLE con precisión de microsegundos, modelado 3D en tiempo real y visualización de eventos de impacto, y grabación, reproducción y reproducción de la base de datos.y sincronización en la nube para realizar copias de seguridad y análisis de macrodatos para investigadores médicos. La aplicación SmartCap® Visualizer se encuentra actualmente en versión beta privada en las tiendas Apple TestFlight y Android Play, y se lanzará públicamente en combinación con el hardware SmartCap® ".
Sitio web
Tecnologías de mitigación de conmociones cerebrales SmartCap® Visualizer
Galería de capturas de pantalla
Submit your own showcase app to the Delphi 26th Birthday Showcase Challenge!
---
Register for Python GUI Apps Con 2023 today!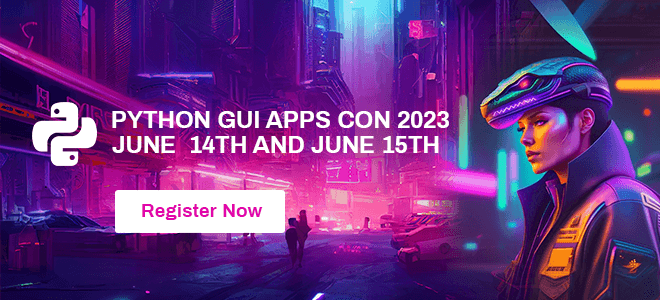 ---