PS Hash es un programa que calcula sumas de comprobación y hashes de archivos y texto dado y está desarrollado en Delphi. Según el desarrollador, "El programa admite 30 algoritmos hash, entre otros MD5, SHA-1, SHA-256, la familia de algoritmos SHA-3. Para facilitar el uso del programa, la interfaz se ha dividido en módulos temáticos que se muestran en pestañas separadas ".
Características:
Archivo: el primer módulo, Archivo, le permite calcular sumas de comprobación de cualquier archivo. Los controles que muestran los valores calculados se han dividido en grupos y se han colocado en paneles plegables. Cada algoritmo se puede activar / desactivar libremente, según las necesidades.
Registro: las sumas de comprobación calculadas y los valores de las funciones hash se guardan automáticamente en la tabla del segundo módulo: Registro. Esta tabla le permite ver todos los valores calculados previamente, filtrar datos según criterios específicos, ordenar, mover filas y columnas, eliminar datos innecesarios, así como copiar información al portapapeles y guardarla en un archivo de texto.
Comparar: el tercer módulo de programa se utiliza para comparar el archivo seleccionado con otros archivos o una suma de comprobación / hash calculada previamente. Si tiene una suma de verificación y no sabe qué función se usó para calcularla, el programa puede detectar el algoritmo usado basándose en la longitud de la suma de verificación / hash dada.
Verificación: el cuarto módulo del programa, Verify, se utiliza para verificar datos sobre la base de archivos de texto especiales preparados previamente que contienen listas de nombres de archivos y valores de suma de comprobación / hash relacionados. Estos archivos suelen tener las extensiones .sfv, .md5, .sha1, .sha256. PS Hash es compatible con programas que generan tales archivos incluidos en el paquete GNU Coreutils, comúnmente usado en sistemas Unix / Linux. Además de la verificación, PS Hash también le permite generar dichos archivos.
Texto: el último de los módulos se utiliza para calcular las sumas de comprobación del texto dado. El usuario puede establecer el método de codificación de texto de la lista que contiene alrededor de 150 páginas de códigos.
Sitio web
Galería de capturas de pantalla
Submit your own showcase app to the Delphi 26th Birthday Showcase Challenge!
---
Register for Python GUI Apps Con 2023 today!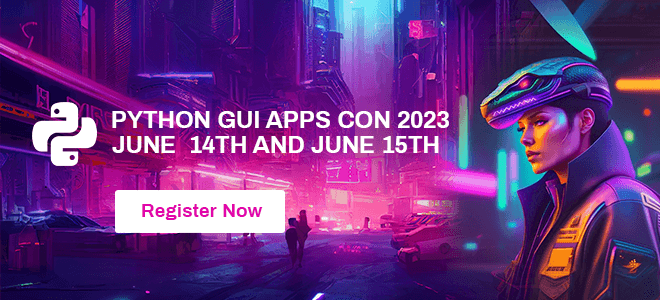 ---