BioniX es un cambiador / cambiador de fondos de pantalla de fama mundial (según el desarrollador) que le permite tomar el control total de su escritorio y está integrado en Delphi. El desarrollador afirma: "Es la elección de millones de usuarios de todo el mundo y ha ganado múltiples premios de críticos y críticos de renombre". Según el desarrollador, "BioniX ofrece características únicas que ningún otro conmutador de fondo ofrece. Por ejemplo, con" Bloquear en carpeta "puede monitorear una carpeta y actualizar automáticamente la lista de reproducción cuando se agregan fondos de pantalla a esa carpeta. Otra característica interesante es 'Día / night ', que te permite mostrar un fondo de pantalla específico en tu escritorio en función de tu hora local (por ejemplo, fondos de pantalla de amanecer por la mañana y fondos de pantalla de atardecer por la noche. Puedes elegir qué fondo de pantalla aparece a qué hora del día. Encuentra un -Lista exhaustiva de características asombrosas aquí. "
Algunas de sus características:
Fondos de escritorio animados (video y GIf)
Fondo de pantalla día / noche
Detección automática de color de fondo
Calendario de escritorio
Efectos especiales (mosaico, espejo, rotar, etc.)
Realce de color
Flip fondo de pantalla
Soporte multimonitor
¡Pánico! botón
Fondo de pantalla de reloj
Cambiador de papel tapiz temporizado
Fondo de pantalla animado en 3D (La matriz)
Cámara web en vivo como fondo de pantalla
Pila de fotos (collage)
Sitio web
Galería de capturas de pantalla
Submit your own showcase app to the Delphi 26th Birthday Showcase Challenge!
---
Register for Python GUI Apps Con 2023 today!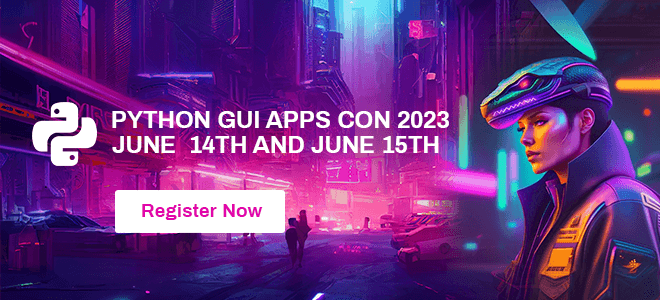 ---