BioniX est un commutateur / changeur de papier peint de renommée mondiale (selon le développeur) qui vous permet de prendre entièrement le contrôle de votre bureau et il est intégré à Delphi. Le développeur déclare: «C'est le choix de millions d'utilisateurs du monde entier et lauréat de plusieurs prix décernés par des critiques et critiques renommés». Selon le développeur, « BioniX offre des fonctionnalités uniques qu'aucun autre sélecteur d'arrière-plan n'offre. Par exemple, avec » Verrouiller le dossier « , vous pouvez surveiller un dossier et mettre à jour automatiquement la liste de lecture lorsque des fonds d'écran sont ajoutés à ce dossier. Une autre fonctionnalité intéressante est » Jour  » / night 'qui vous permet d'afficher un fond d'écran spécifique sur votre bureau en fonction de votre heure locale (par exemple, les fonds d'écran du lever du soleil le matin et les fonds d'écran du coucher du soleil le soir. Vous pouvez choisir quel fond d'écran apparaît à quelle heure de la journée. – une liste exhaustive de fonctionnalités étonnantes ici. « 
Certaines de ses caractéristiques:
Fonds d'écran animés (vidéo et GIf)
Fond d'écran jour / nuit
Détection automatique de la couleur de fond
Calendrier de bureau
Effets spéciaux (tuile, miroir, rotation, etc.)
Amélioration des couleurs
Flip fond d'écran
Prise en charge de plusieurs moniteurs
Panique! bouton
Fond d'écran horloge
Changeur de papier peint chronométré
Fond d'écran animé 3D (La matrice)
Webcam en direct comme fond d'écran
Pile de photos (collage)
Site Internet
Galerie de captures d'écran
Submit your own showcase app to the Delphi 26th Birthday Showcase Challenge!
---
Register for Python GUI Apps Con 2023 today!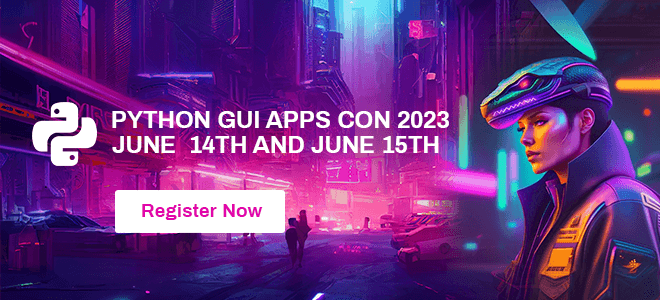 ---