DNA Sequence Assembler, una herramienta científica avanzada para la manipulación de ADN que se desarrolla en Delphi Según el desarrollador, "Ofrece: ensamblaje / alineación de secuencias de ADN, análisis de cromatogramas de ADN, conversión de secuencias de ADN, edición de contig y detección de mutaciones. Según el desarrollador, DNA Baser se cita en miles de publicaciones / artículos científicos (  www.dnabaser.com/features/our% 20customers.html). Se utiliza en TODOS los países del mundo, principalmente en investigación académica, pero también en hospitales, instituciones gubernamentales y empresas con fines de lucro. Es pionero en el campo, siendo DNA Baser el primer software que: Automatiza completamente el proceso de ensamblaje de la secuencia de ADN. No se requiere intervención humana. Ahora se puede ensamblar un conjunto de 1000 muestras de ADN en menos de 10 minutos en lugar de 2-3 meses. Ofrece un llamador de base integrado. Ofrece una corrección automática de errores confiable, con una precisión superior al 99,8% (mejor que un operador humano). Es asequible. Mucho más barato que cualquier competidor (aproximadamente $ 1000 para uso académico, $ 2000 para militares / hospitales / empresas). También están ofreciendo cualquier laboratorio que realice experimentos / licencias de investigación relacionados con Corona de forma gratuita ".
Sitio web
Ensamblador de secuencia básica de ADN
Galería de capturas de pantalla
Submit your own showcase app to the Delphi 26th Birthday Showcase Challenge!
---
Register for Python GUI Apps Con 2023 today!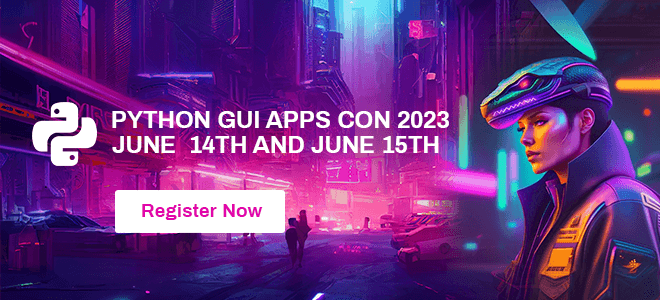 ---