Portraits using Craps es un programa que crea imágenes con dados y está desarrollado en Delphi. Según el desarrollador, " En mayo de 2020, escribí sobre una imagen de dados creada por la artista cibernética Barbara Lynn Helman. Al parecer, la creadora puso los dados de acuerdo con el tono de gris que encontró visualmente en cada parte de la imagen. Las fotografías que presentó parecen indicarlo. Sin embargo, hacer visualmente una caja hecha con dados como este habría sido una tarea demasiado complicada y probablemente demasiado fácil para cometer errores. Quiero suponer que Barbara usó algún programa que le dijo qué dado poner en qué posición. Esta sería, en cualquier caso, la forma inteligente de realizar esta tarea.Entonces escribí un programa que genera imágenes con precisión con dados, como los que hace la señorita Lynn Herman. Y en realidad lo que hice fue modificar un programa que ya tenía que hacía semitonos. En consecuencia, después de realizar las modificaciones, rápidamente obtuve un programa que generaba las imágenes finales, colocando dados virtuales (imágenes de dados), en lugar de colocar dados reales en una superficie plana ".
Sitio web
Galería de capturas de pantalla
Submit your own showcase app to the Delphi 26th Birthday Showcase Challenge!
---
Register for Python GUI Apps Con 2023 today!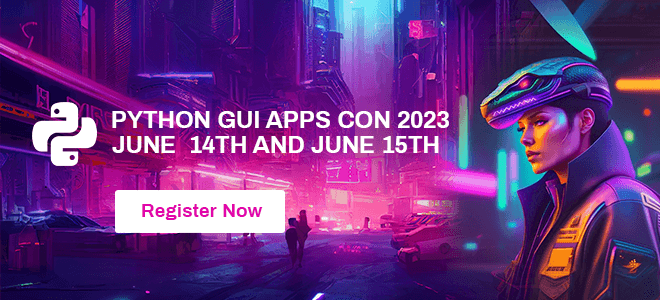 ---