Office Document Finder est un moteur de recherche de bureau destiné à la recherche et à la visualisation rapides de documents PDF, Word, Excel et PowerPoint à partir d'une application, d'un navigateur ou d'un mobile et il est développé en Delphi. Construit à l'aide de la bibliothèque de composants HTML et de la bibliothèque HTML Office. Il y a ici des captures d'écran de Windows, macOS et Linux. Excellent exemple d'application Delphi multiplateforme!
Fonctionnalités
Tous les formats – Prise en charge de tous les formats Word (.doc, .docx, .rtf), Excel (.xls, .xlsx), PowerPoint (.ppt, .pptx), Adobe PDF, HTML et EPUB
Visualiseur avancé – Affichez les documents dans leur mise en page d'origine avec toutes les images et la décoration de texte
Aucune dépendance – MS Office et d'autres applications ne sont pas nécessaires
Langues CJK – Indexation et recherche de documents en chinois, au Japon et en coréen
OCR – Reconnaissance optique de texte dans les documents numérisés
Accès au cloud – Accédez à vos documents depuis n'importe quel PC ou mobile
Exportation PDF – Téléchargez le fichier PDF à partir de la visionneuse du navigateur ou de l'application
Localisation – Traduction d'interface Web et d'application vers Deutch, français, russe et espagnol
Suggestions – Liste de saisie semi – automatique pour chaque mot avec le nombre de documents contenant ce mot
Thèmes – Thèmes clairs et sombres
Duplicates – Détection des documents dupliqués (affichés sous forme de nombre rouge)
Langue de requête – Prise en charge de « commencer par », « exclure le mot » et « mots exacts »
Site Internet
Galerie de captures d'écran
Submit your own showcase app to the Delphi 26th Birthday Showcase Challenge!
---
Register for Python GUI Apps Con 2023 today!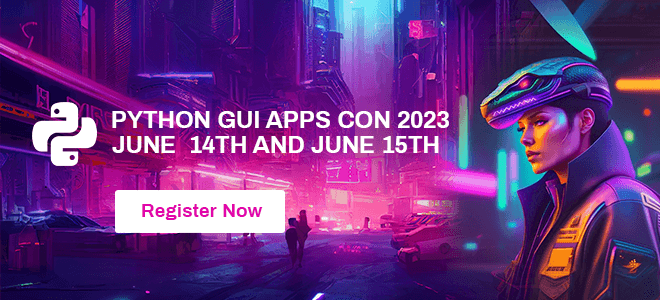 ---