El desarrollador tiene varias aplicaciones pero su favorito es este programa que calcula simulaciones Monte-Carlo de TRANSPORTE DE LUZ EN MEDIOS TRANSPARENTES O TURBIDOS, CON DISPERSIÓN y / o ABSORCIÓN y está desarrollado en Delphi. Según el desarrollador, "La MUESTRA puede constar de una sola o más CAPAS, cada una con sus propios datos de absorción y dispersión, en forma de concentraciones de partículas dispersas incrustadas en un medio. Para registrar los espectros DOPPLER, a cada tipo de partícula de dispersión se le puede asociar un determinado vector de velocidad.En cada capa pueden estar presentes una serie de estructuras definidas por separado (denominadas "OBJETOS": con forma rectangular, cilíndrica, esférica o cónica), con características similares a las capas. Opción: las esferas se pueden distribuir aleatoriamente en una capa. Con esos objetos, por ejemplo, se pueden imitar los vasos sanguíneos. También lentes y pupilas / diafragmas transparentes y turbios. También se puede insertar un plano de espejo oblicuo. Además, las capas se pueden subdividir en subcapas (píxeles de profundidad, ver más abajo). Hay más opciones: fuentes de luz internas y haces externos, detección interna y externa, gráficos de distribuciones de varias variables (posiciones de fotones, distribuciones de longitud de trayectoria, seguimiento de fotones, gráficos de estructura de capa + objeto, modulación de frecuencia por transformaciones de Fourier, distribuciones angulares, foto -tramas de respuesta acústica,seguimiento de rayos en sistemas de lentes ".Además, el desarrollador afirma: "Tengo varias aplicaciones, sin conexión y en línea (usando TMS Web Core). Mi favorito es este "MONTCARL", que calcula la dispersión de la luz en medios turbios (como tejido), con objetos incrustados (como esferas, tubos, espejos, etc.). Vea la película en el sitio. El segundo es "SOLAR PANEL IRRADIATION" (en línea), que calcula la eficiencia del panel y los efectos de la sombra. También con película ".
Sitio web
Galería de capturas de pantalla
'
Submit your own showcase app to the Delphi 26th Birthday Showcase Challenge!
---
Register for Python GUI Apps Con 2023 today!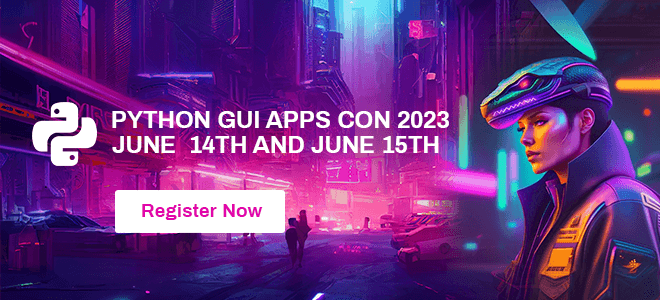 ---