Les développeurs Delphi sont à l'origine d'un nombre surprenant d'industries. Avec leurs applications de bureau et mobiles fonctionnant silencieusement, fournissant des outils solides, fiables et utiles pour aider et améliorer la vie sociale et professionnelle quotidienne de leurs utilisateurs, notre communauté de développeurs est dans le grand secret: RAD Studio Delphi fait passer vos applications de l'idée géniale à la réalité et entre les mains des clients rapidement. En outre, avec la pleine puissance de RAD Studio de r apid un pplication d éveloppement, le minimum d'effort produit un maximum de résultats.
Une fois là-bas sur les appareils de vos utilisateurs, vos applications continuent de fonctionner solidement, vous permettant, comme le dirait Tim Cook d'Apple, de « surprendre et ravir vos utilisateurs ».
Via Express facilite la vie des utilisateurs
Via Express est un exemple d'une application vraiment utile, bien écrite. Il est compact, léger et fonctionne sur l'iPhone et l'iPad où les utilisateurs l'utilisent pour enregistrer les détails des voyages et les détails du voyage à utiliser dans les déclarations de dépenses et les rapports financiers tels que les comptes fiscaux.
L'application mobile est liée à un service Web du même développeur et entre les deux, une image complète de vous ou des voyages de votre personnel peut être enregistrée et un historique construit au fil du temps.
Avec quel type d'informations l'application est-elle utile?
Des données telles que le lieu de départ, des informations sur le véhicule telles que le type – voiture, moto, etc. – la destination, la raison du voyage ainsi que les horaires et la distance parcourue.
Les utilisateurs n'ont pas besoin d'utiliser le service en ligne car l'application peut être utilisée de manière totalement indépendante.
Quiconque a fait face au cauchemar d'enregistrer les détails de son voyage pour un remboursement par un employeur ou pour demander avec précision des indemnités sur ses documents fiscaux saura que Via Express a vraiment le potentiel d'améliorer la vie de ses utilisateurs et de simplifier la paperasserie bureaucratique.
Le développeur Davor Pleskina a plusieurs applications dans la boutique Apple iTunes et Google Play Android. Excellent travail Davor!
App Store d'Apple
Galerie de captures d'écran
---
Isn't it time to turn your great idea into reality and become the next must-have app?
---
Register for Python GUI Apps Con 2023 today!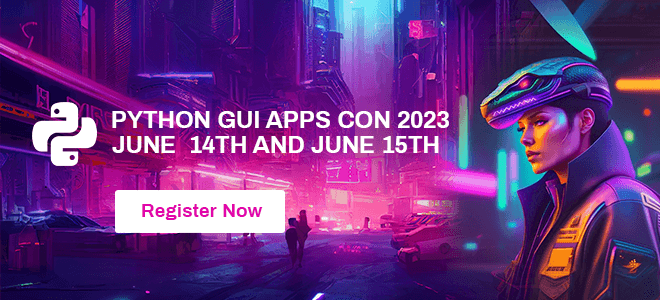 ---