Los desarrolladores de Delphi están detrás de una sorprendente cantidad de industrias. Con sus aplicaciones de escritorio y móviles trabajando silenciosamente, proporcionando herramientas sólidas, confiables y útiles para ayudar y mejorar la vida social y laboral diaria de sus usuarios, nuestra comunidad de desarrolladores se encuentra en el gran secreto: RAD Studio Delphi hace que sus aplicaciones pasen de una gran idea a una realidad y en manos de los clientes rápidamente. Además, con toda la potencia de la RAD Studio r APID una plicación d esarrollo, el mínimo de esfuerzo produce resultados máximos.
Una vez en los dispositivos de sus usuarios, sus aplicaciones siguen funcionando de manera sólida, lo que le permite, como diría Tim Cook de Apple, " sorprender y deleitar a sus usuarios ".
Via Express facilita la vida de los usuarios
Via Express es solo un ejemplo de una aplicación realmente útil, bien escrita. Es compacto, liviano y funciona en el iPhone y el iPad, donde los usuarios lo utilizan para registrar los detalles de los viajes y los detalles de los viajes para usarlos en las declaraciones de gastos y los informes financieros, como las cuentas de impuestos.
La aplicación móvil se vincula con un servicio basado en la web del mismo desarrollador y, entre los dos, se puede registrar una imagen completa de usted o de los viajes de su personal y se puede construir un historial a lo largo del tiempo.
¿Con qué tipo de información ayuda la aplicación?
Datos como la ubicación de inicio, información del vehículo como el tipo de automóvil, motocicleta, etc., destino, motivo del viaje, así como los tiempos y la distancia recorrida.
Los usuarios no tienen que usar el servicio en línea, ya que la aplicación se puede usar de forma completamente independiente.
Cualquiera que haya enfrentado la pesadilla de registrar los detalles de su viaje para el reembolso de un empleador o para reclamar con precisión las asignaciones en su documentación fiscal sabrá que Via Express realmente tiene el potencial de mejorar la vida de sus usuarios y simplificar la carga del papeleo burocrático.
El desarrollador Davor Pleskina tiene varias aplicaciones en la tienda de Apple iTunes y Google Play para Android. ¡Gran trabajo Davor!
Tienda de aplicaciones de Apple
Galería de capturas de pantalla
---
Isn't it time to turn your great idea into reality and become the next must-have app?
---
Register for Python GUI Apps Con 2023 today!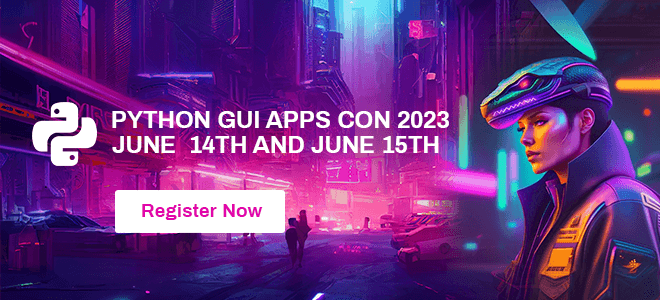 ---