Delphi 10.4.2 Sydney está disponible y está lleno de nuevas características , correcciones y mejoras generales de calidad. Realmente creo que es la combinación perfecta de pulido y nuevas características, y todos con los que he hablado parecen estar de acuerdo. Una de las características más destacadas son las mejoras en la velocidad del compilador de Delphi. En su mayoría son visibles en el compilador de Win32 y son en parte el resultado de los detalles proporcionados por Andreas Hausladen y las correcciones en versiones anteriores de su Fix Pack IDE .
Aquí está la lista de correcciones, en caso de que sienta curiosidad….
Sistema de archivos
SearchUnitNameInNS
GetUnitOf
CacheControl
FileNameStringFunctions
KibitzIgnoreErrors
RootTypeUnitList
MapFile.fprintf
Unit.RdName
PrefetchToken
StrLenCalls
(Nota: debido a la naturaleza de IDE Fix Pack, nuestra implementación es diferente, pero logra el mismo objetivo).
WarnLoadResString
DbkGetFileIndex
Desvincular Importaciones
ResetUnits
KibitzCompilerImplUnitReset
Desvincular durante la compilación
UnitFreeAll
UnitFindByAlias
SymLookupScope
ImportedSymbol
NoUnitDiscardAfterCompile
FuenteOutdated
MapFileBuffer
BackgroundCompilerFileExists
DrcFileBuffer
Package.CleanupSpeed
Mejoramiento
FindPackage
x64.JumpOpt
x64.SymTabHashTable
ReleaseUnusedMemory
FileNameStringFunctions
La memoria se contrae
La mayoría de las veces, Delphi se compila muy rápido y, según el código, es posible que no vea ninguna mejora de rendimiento. Probé algunos de mis proyectos y no vi ningún cambio. Matthias Eißing sugirió que vio una aceleración significativa al compilar HeidiSQL , así que lo intenté e hice un video.
En resumen, la compilación de Win32 pasó de 5,5 segundos en 10.4.1 Rio a 3,3 segundos en 10.4.2. Esa es una mejora de la velocidad del 40%.
Algunas otras personas han compartido las mejoras de velocidad que descubrieron al pasar a 10.4.2 Sydney.
Adrian Gallero, gerente de proyectos de TMS Software, mostró la compilación del millón de líneas de código detrás de TMS FlexCel . Contiene "muchos genéricos, un poco más de 3000 unidades, múltiples inclusiones, ciclos de unidades que se utilizan de forma recursiva y dependencias complejas". Su tiempo de compilación pasó de 30 segundos en 10.3 Rio a 19 segundos en 10.4.2 Sydney.
I normally wait a while before adopting a new Delphi version, but given all the time I spend compiling FlexCel, I migrated to 10.4.2 yesterday.
Adrian Gallero
Project Manager
TMS Software
I'm going to call RAD Studio Delphi 10.42 "the speedy supermodel release." So many lovely subtle (and overt) tweaks to the UI and BOY DOES IT COMPILE FAST! It's solid, contains a bunch of quality improvements, LSP is really kicking it now and the new 'squiggly line' choices for error insight and so on just add to the overall feel of solidity.
Ian Barker
Embarcadero MVP
Roman Kassebaum Embarcadero Technology Partner and MVP
Moving from Delphi 10.3.3 Rio to 10.4.2 Sydney the compile time for our 2.3 million lines of code dropped from a respectable 2.5 minutes to an incredible 1.5 minutes! This makes the turn-around times for daily work 40% faster!

My recommendation to all Delphi users is: Move to the latest version 10.4.2 Sydney immediately!
Wow. I am really impressed. This is the long-awaited Delphi 7 successor. The new gold standard. Compiling: Superspeed. Working on remote Desktop. Wow. Compilation in 10 seconds instead of 90 seconds. Loading huge forms without trouble.
---
Register for Python GUI Apps Con 2023 today!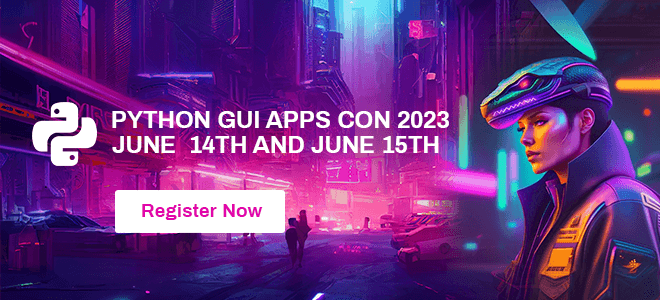 ---