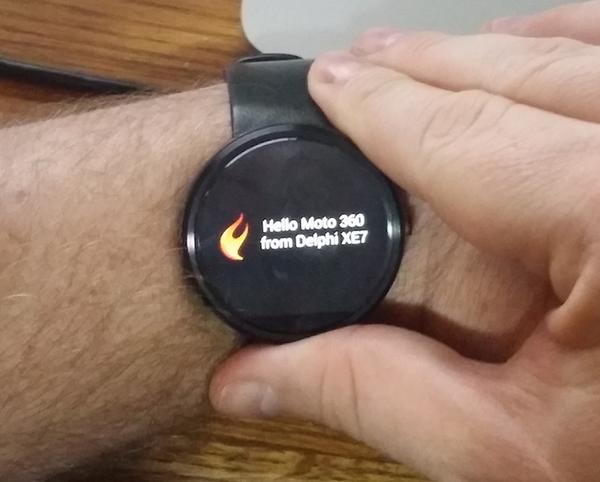 Jim McKeeth walks thru Moto 360 support for Delphi XE7. Jim is using XE7's new FireUI and the new Moto 360 circular FireUI view (available soon as a free XE7 download) to build and deploy a native Moto 360 app to the watch. Demos for C++ and Appmethod also soon. Developers without access to a Moto 360 can deploy/debug to the Android Wear round face emulator. Note: the Android emulator requires high performance PC and host GPU turned ON.
Download the FREE XE7 Trial today, and remember that you only have until September 30th to get an add'l 10% early adopter discount, plus you get theFREE XE7 bonus pack including FREE Castalia Full Version and FREE FastCube VCL 2.
With Delphi XE7, C++Builder XE7, and RADStudio XE7 you can build and deploy your apps to a wide variety of Android devices including phones, tablets, Google Glass, game consoles, and smart watches. Look for more FireUI view support for more devices as they are added.
FireUI is one of the most popular and talked about new features but there are many more new features in XE7, and lots of enhancement and improvements to the new capabilities introduced in XE5 and XE6.
"The XE7 FireUI Multi-Device designer allows us to create a master view and customize the layout for numerous other devices. The development time it saves is worth the upgrade to XE7 alone."
Andrew Tierney - CEO - CastleSoft

"FireUI is like heaven! XE7 users will be lightyears ahead of other developers"
Erik Bellaard - Developer - *WEGA Automatisering VOF, NL
"The most important XE7 feature for me is FireUI Multi-Device Designer. I love it."
Bogdan Bogus- Project manager - Metaproiect Software srl, Tirgu Mures, Romania

"XE7's FireUI delivers the promise of single-source development across all the FMX platforms"
Ptere Ingham - Independent Software Development Consultant

"FireUI in XE7 is awesome. It rocks. Love the concept and the use of inheritance."
Keith Brown, independent programmer, Keith and Lisa Brown, LLC

Share This | Email this page to a friend
Posted by Michael Swindell on September 19th, 2014 under
C++Builder
,
Delphi
|
Comment now »
Tweet the programming languages you used in 2013, see the global results at http://code2013.herokuapp.com/
Click to tweet: http://ctt.ec/2fudc
Go Delphi!
Share This | Email this page to a friend
Posted by Michael Swindell on January 2nd, 2014 under
Uncategorized
|
Comment now »
Digifort creates security and surveillance hardware and software solutions and in this video is demonstrating Digifort's new native iOS and Android mobile apps built with Delphi XE5. Digifort's mobiles apps can view and control Digifort security cameras from a variety of iOS and Android devices, in varying form factors. Digifort's new mobile apps are great example of the advantage Delphi XE5's single source native multi-device capabilities.
Share This | Email this page to a friend
Posted by Michael Swindell on October 29th, 2013 under
Uncategorized
|
3 Comments »
In last nights Walking Dead Season premiere, at 00:52 minute mark, in the Library scene - check out the bookshelf behind Carol. A little Delphi Unleashed goodness. Also an OWL book (the precursor to VCL and later, Firemonkey)! There are also some more Delphi books on the lower shelves. Of course these are all from back when Delphi was Windows only. Today's Delphi XE5 supports iOS, Android, Mac, and Windows all from a single source code base - helping developers natively support all the major device platforms without the time and cost of developing with multiple tools or settling for a script based approach. Developers are responding in a big way. The new RADStudio XE5 is driving record demand and sales growth for Delphi and RADStudio. And looking at this morning's CodeRage (Free online developer conference) registrations tally, there will be record attendance to the annual free online developer conference this week. Still time to sign up for free, and join thousands of other developers learning to build scriptfree native multi-device apps for iOS, Android, Windows, and Mac with a single source code base.
Share This | Email this page to a friend
Posted by Michael Swindell on October 14th, 2013 under
Uncategorized
|
Comment now »
Google/Asus are flushing out their 1st gen Nexus tablet inventory. These are great quad core tablets for Delphi developers. Many of our team members use these same tablets. They are factory refurbished first gen Nexus 7 fast quad core tablets (2nd gen was released recently) running Android 4.1 Jellybean. These are sold by authorized resellers with 90day Asus warranties. Free Shipping (US only).
$139 - 32GB Nexus 7 (1st Gen) from Beach Camera
$139 - 32GB Nexus 7 (1st Gen) from Tiger Direct
$119 - 16GB Nexus 7 (1st Gen) from Geekdeal
Share This | Email this page to a friend
Posted by Michael Swindell on September 26th, 2013 under
Delphi
|
1 Comment »
Today Apple announced the first new devices that will coincide with the release of iOS7, the first major UI overhaul for the device that "started it all". iOS7 is significant not only because it is the first major UI styling and UX change for iOS, but it is also teamed up with two new blockbuster hardware announcements from Apple. The first, the iPhone 5s, transforms the phone into a passive biometric authentication device. While there's been much speculation on this capability, I think it has been tremendously under appreciated and undervalued in it's potential to change the way we use our devices. If it works as it should, we'll soon be carrying around a very simple way to conveniently and securely authenticate ourselves with purchases, websites, door locks, and more. The second announcement being a new low cost iPhone 5c paving the way for cost sensitive and global market adoption, most importantly the massive China smartphone market opportunity. For hundreds of millions of users, iOS7 with it's new look and feel will be their only iPhone experience.
In iOS 7 dimensional buttons give way to flattened text "links", blue and grey gives way to white and pastels, and rounded UI elements with imitation dimension gives way to sharp geometry with layered depth.
I really liked the old iOS, but that is now the old iOS. With iOS7 Apple is drawing visual and stylistic line between the old and new. Apple's hardware announcements are re-setting the bar higher and pushing the category forward with biometric authentication and 64bit while it's also opening up the iPhone to hundreds of millions of new users globally with low cost devices. Whether you were fine with the old iOS or thought it was getting dated, it's fitting that there is a fairly radical visual and stylistic line of demarcation between yesterday and today. While iOS7 will run on a lot of older iHardware, in a sense Apple is drawing a line between the old and new not just for the phone, but for Apple itself.
At Embarcadero we make tools to help developers build native apps for a variety of device platforms from a single code base. And while our tools are designed for multi-device development they are also simply the fastest way to build apps for any device including iOS7. Today our teams are readying our new line of XE5 products which will introduce native Android support to the RADStudio and Delphi tools which already support native iOS, Windows, and Mac from a single code base. Our teams have also been working over the summer on iOS7 OS and UI support, which will be supported in XE5 (when iOS7 is available) along with Android. With XE5's iOS7 support developers will be able to simply recompile their existing iOS6 mobile apps for iOS7. (And of course, Android as well.)
Share This | Email this page to a friend
Posted by Michael Swindell on September 10th, 2013 under
Uncategorized
|
Comment now »
same Delphi Android app and photo, Tweeted from within the app running on Samsung Galaxy Note 8.0.
Get Delphi for Android Free when you take advantage of current RAD special offers but time is running out.
Share This | Email this page to a friend
Posted by Michael Swindell on September 5th, 2013 under
Uncategorized
|
Comment now »
Below is the first Facebook photo and post from an app built in Delphi for Android. Photo was taken from the Android (Samsung Galaxy Note 8.0) camera using the a Firemonkey camera action, then shared on facebook using a Firemonkey sharesheet action. Entire app is extremely easy to build - and also easy to add filter effects and other features. Same app is recompiled to iOS without any source code changes.
Get Delphi for Android Free when you take advantage of current RAD special offers but time is running out.
Share This | Email this page to a friend
Posted by Michael Swindell on September 4th, 2013 under
C++Builder
,
Delphi
,
Uncategorized
|
2 Comments »
This past week I had some great conversations with developers at WWDC in San Francsico while waiting in line for sessions, between sessions, and at the various events. I met a few developers focused solely on iOS, but the majority I spoke with were with companies that are working to deliver their product value across multiple devices and form factors including Macs and iOS mobile devices. I talked to developers working on document management, wearable fitness devices, event ticketing, and more. We discussed different approaches, frameworks, languages, and business models. But the common denominator boiled down to the need and challenge to deliver their business to as many users as possible.
For the Windows developer, multi-device is both a business opportunity and a business necessity. Just five years ago a Windows only business strategy was still viable, but it was in the last days of dominating the single device era. In 2007 a trend was already underway toward a more diversified desktop landscape. While still a small percentage of the desktop market compared to Windows, Macs were back and gaining in market share. Specifically, Macs for the first time were growing at a faster pace than Windows desktops. And importantly, Macs were becoming the device of choice with influencers, developers, and technical experts. This trend, along with the BYOD trend, started a significant shift toward allowing and supporting heterogeneous desktops in IT. This real world trend even led to Forrester reversing its long standing position against Macs in the enterprise and in late 2011 urged Enterprise IT organizations to start supporting Macs along with Windows PCs. But it was a flat glass multi-touch Internet device released by Apple in 2007 that cracked the single device world wide open - and it could make calls too.
For most developers up to 2007 supporting platforms other than Windows was a cost/benefit exercise that more than often didn't add up and make business sense. For most developers it didn't make sense to double upfront and ongoing R&D cost for a 10% growth in revenue. Fast forward to 2013 and it is a completely different world and model. Users are now typically using multiple hardware and software platforms during the course of a day. Users expect to get updates, alerts, and notifications from their applications where ever they are and on which ever device they are in front of or carrying (and soon, wearing). The question is no longer "Can I cost justify the R&D expense?". It is now "How do we deliver our business value to the devices our customers are using and maintain budgets and schedules that make sense for the business?".
Venture capital firm KPCB put out a chart late last year that visually, and dramatically, illustrates the shift from the single platform dominated landscape that started in the early 90's to a rapidly re-emerging multi-device landscape that began in the last several years and continues to climb today.
While the desire to strengthen and grow an existing business with multi-device is attractive, some developers are still stalled by business risk. Some of the perceived risks include price dilution, cannibalization, and increased costs. R&D costs can be addressed with multi-device tools. Development tools from Embarcadero, for example, are designed to natively support multiple device platforms from a single development effort providing multi-device support for the similar cost as a single platform effort. Business changes, on the other hand, can be addressed by viewing multi-device as an additive component to a successful business rather than a replacement. There is no need to start over offering a 99 cent app in the App Store that dilutes your product value or cannibalizes your existing customer. Few successful app businesses today are truly based on 99 cent apps anyway. Instead, existing established software businesses, including Windows based businesses, have variety of business models to choose from when moving to multi-device that can be complimentary and enhance existing established businesses with new revenue and customers without dilution or cannibalization. Some of the more common multi-device business models for existing desktop software include Extension, Replication, Marketing, and Services models.
Extension model - Create mobile apps that extend the functionality of your desktop application, making the solution more versatile and adaptable. A dentist office solution for example, is typically a rich client Windows application with a display fixed near the patients chair to display patient records and X-rays. These are typically built in a client/server model often with a middleware server such as DataSnap. In the extension model, add an iPad app that connects to the data snap server enabling the staff to carry the patient information around the office. Tablets also tend to be less intimidating in stressful settings such as medical and dental offices. These apps do not have to have the full functionality of the main workstation. They give the staff flexibility and mobility in the office while creating a friendlier and more accessible environment for patients. The goal of extension is to build upon your existing success, creating a more compelling and competitive solution for your customers and market. The extension model is also one of the more cost effective to implement and can be rolled out quickly, particularly if you've built your existing solution with client/server middleware such as Embarcadero's DataSnap. If your application is a pure two-tier client/server solution, then consider moving it to DataSnap and adding native mobile app clients and web clients with RADStudio XE4
Replication model - The goal of replication is to duplicate your Windows application feature set in a new form factor and device platform in order to a) reach new users and b) provide more convenience for your users by offering your apps features on devices they are using at anytime. Replication strengthens the user base and creates stickiness for your applications. Replication typically requires rewriting your application with new tools, languages, and APIs for each target platform and can be the most costly multi-device model to implement. However, Embarcadero's RADStudio XE4 can mitigate the R&D cost enabling existing Windows VCL applications to be migrated to the FM framework on Windows (aka Firemonkey) and then natively to new platforms such as Mac, iOS, and soon Android - making replication fast and cost effective compared to other approaches. One of the benefits of replication is taking your existing business and leveraging the successful sales and marketing infrastructure of app stores such as the iOS AppStore and the Mac AppStore. I spoke to two different well known companies at WWDC this week who are now getting more traffic via their apps, than their website and many statistics demonstrate that users spend more time in apps than the web on mobile devices. Placing your application in app stores it searchable and available to completely new audiences, where they are looking and searching for solutions today.
Marketing model – Marketing models leverage the mobile app to upsell additional capability or applications. The most popular marketing model is aimed to attract new customers with free or low cost functionality, and reserving additional capabilities, often the most valuable for in app purchases. It is not uncommon for a $9.99 app to have a $49.99 in app add-on for example. The most successful model from a revenue perspective being consumable in-app purchases such as time, capacity, or usable items. App stores are also a tremendous marketing vehicle that can expose your application to completely new audiences. Since the iOS AppStore doesn't allow for trial downloads developers have found success with free apps that upsell add'l capacity via the in-app purchase mechanism. In fact the highest grossing apps today are free apps with in-app purchases. The model works because the iOS AppStore is an incredible marketing machine with millions of views and searches every day and free apps are the most sought for and downloaded.
Another marketing model that is starting to become popular among businesses with existing desktop apps is the free mobile to desktop approach. By giving away a specific feature set of the desktop version in a mobile app, the mobile app can upsell to the more powerful and feature rich desktop version.
Services model - Existing applications can be reworked to push their data into the cloud, and then shared among different device versions of your app. Amazon and Google provide cloud services that are easy to implement. But consider emerging REST based BAAS (back end as a service) platforms that offer a wider variety of app oriented and value added hosted back end cloud services for your app such as push notifications, user management, data storage, file storage, geolocation services (ie search and users near me). These services can also help you to expand your business with new revenue models such as subscription and service capacity. Some BAAS platforms to look at are Kinvey, App42, Stackmob, and Parse. Programmable Web has a useful list of 50 BAAS platforms http://blog.programmableweb.com/2012/10/17/50-backend-apis-cloudmine-mydigitalstructure-and-quickblox/
Today's device choices of desktops, tablets, and phones will soon be rapidly expanding to include televisions, automobile, HUDs, wearable devices, game consoles, and more. And regardless of the business model you choose, today's multi-device landscape provides Windows and desktop application developers with a far larger audience, better marketing methods, and new ways to monetize your business.
As a software developer or development organization, if you haven't begun to move your business to a multi-device model, now is the time. You can get started by picking up Embarcadero's Delphi XE4 or RADStudio XE4 line of development tools which support rapidly building apps for Windows, Mac, and iOS with a single code base and add Android when it becomes available. If you have existing Windows or Windows VCL applications Embarcadero's XE4 line of tools will help you migrate them to a native multi-device strategy. Another great place to start is the free CodeRage Mobile online conference this week June 18-19 where you can learn how to kick start your multi-device application strategy today.
Share This | Email this page to a friend
Posted by Michael Swindell on June 17th, 2013 under
C++Builder
,
Delphi
|
1 Comment »
A new video posted from Daniel Magin of DeveloperExperts and an Embarcadero MVP demoing building an iOS Geolocation app with the Delphi iOS Beta. This week is also one of the best times to get Delphi or a Delphi upgrade, because there is an "early bird" 20% off promotion running on Delphi Enterprise and RADStudio editions when purchased with an update subscription (aka maintenance or software assurance). These are the editions that are planned to include iOS when it's available. And with the RADStudio mobile roadmap and more platforms and frequent updates and upgrades on the horizon, this is certainly way I would recommend purchasing Delphi or RADStudio today. This particular promo is ending in just a few days on March 31. Getting Delphi or RADStudio today from an Embarcadero partner or eShop with an update subscription not only gets you 12mo of updates and major upgrades, but also access to the iOS beta today before it's released, plus you'll save 20% the 2012 pricing.
Share This | Email this page to a friend
Posted by Michael Swindell on March 27th, 2013 under
C++Builder
,
Delphi
,
Uncategorized
|
Comment now »